I have little experience with folding smartphones. The usual monoblocks are closer and more understandable to me, but bending devices somehow do not beckon. Nobody forces you to change your habits, but trying something new is always interesting, so I took the Samsung Galaxy Z Flip4 for a week.
Acquaintance begins with studying the kit, but everything is minimalistic: a clip for a SIM card and a USB-C to USB-C cable. The power supply must be purchased separately, but we have become accustomed to this recently.
Flexible but not small
You can't find fault with the assembly with all your desire. The hinge is tight and very tight. The smartphone unfolds with more than a decent effort. There is no backlash, both disassembled and folded – everything is very soundly. I will leave behind the scenes the question of how long the screen will last in the device, but, according to Samsung, you can count on 200,000 unfoldings and how things go.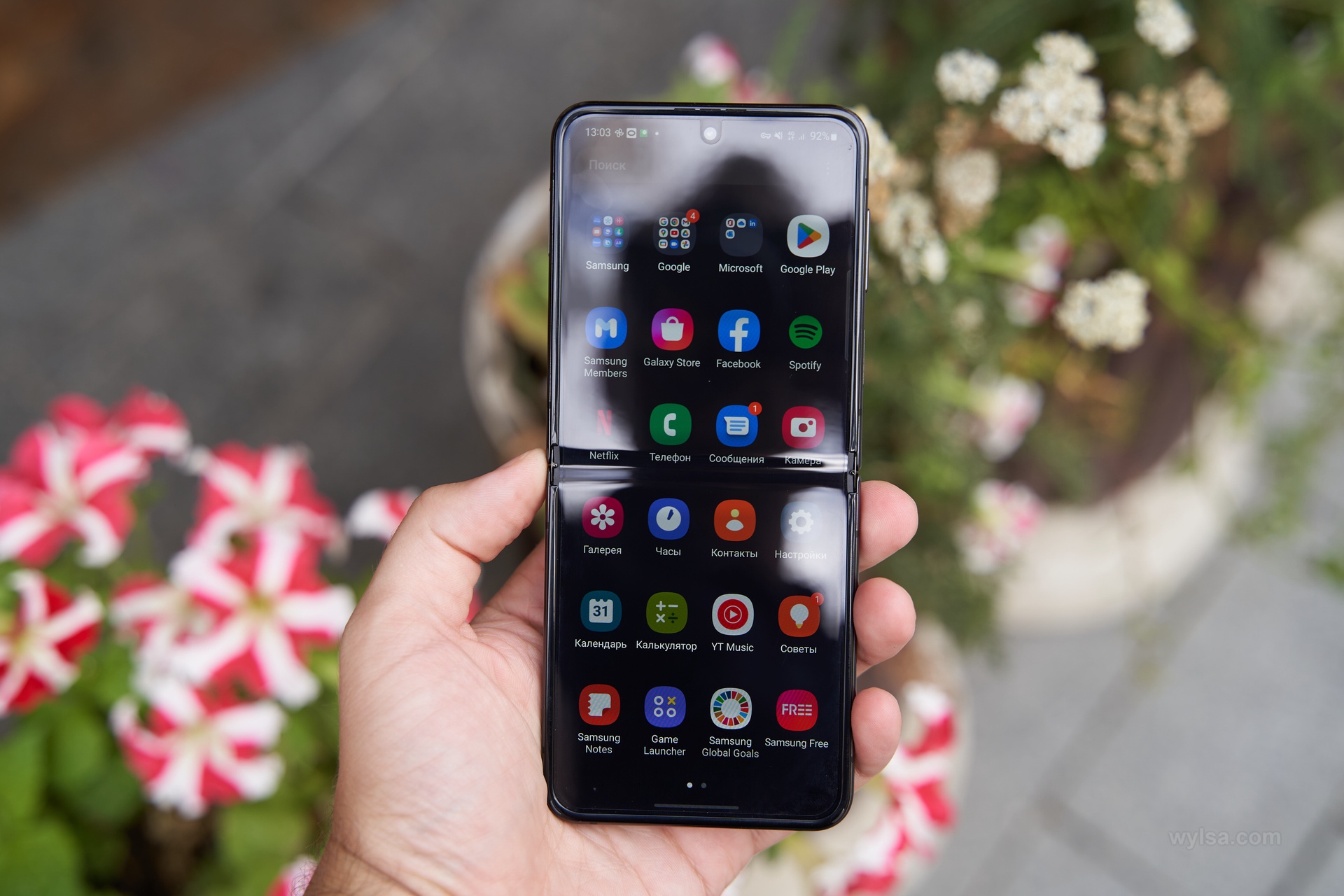 A factory protective film is glued on the screen. You do not need to remove it. Otherwise, there will be problems with the warranty service. Wearing polarized sunglasses is not pleasant to use a smartphone. The film is frantically glaring, so keep that in mind.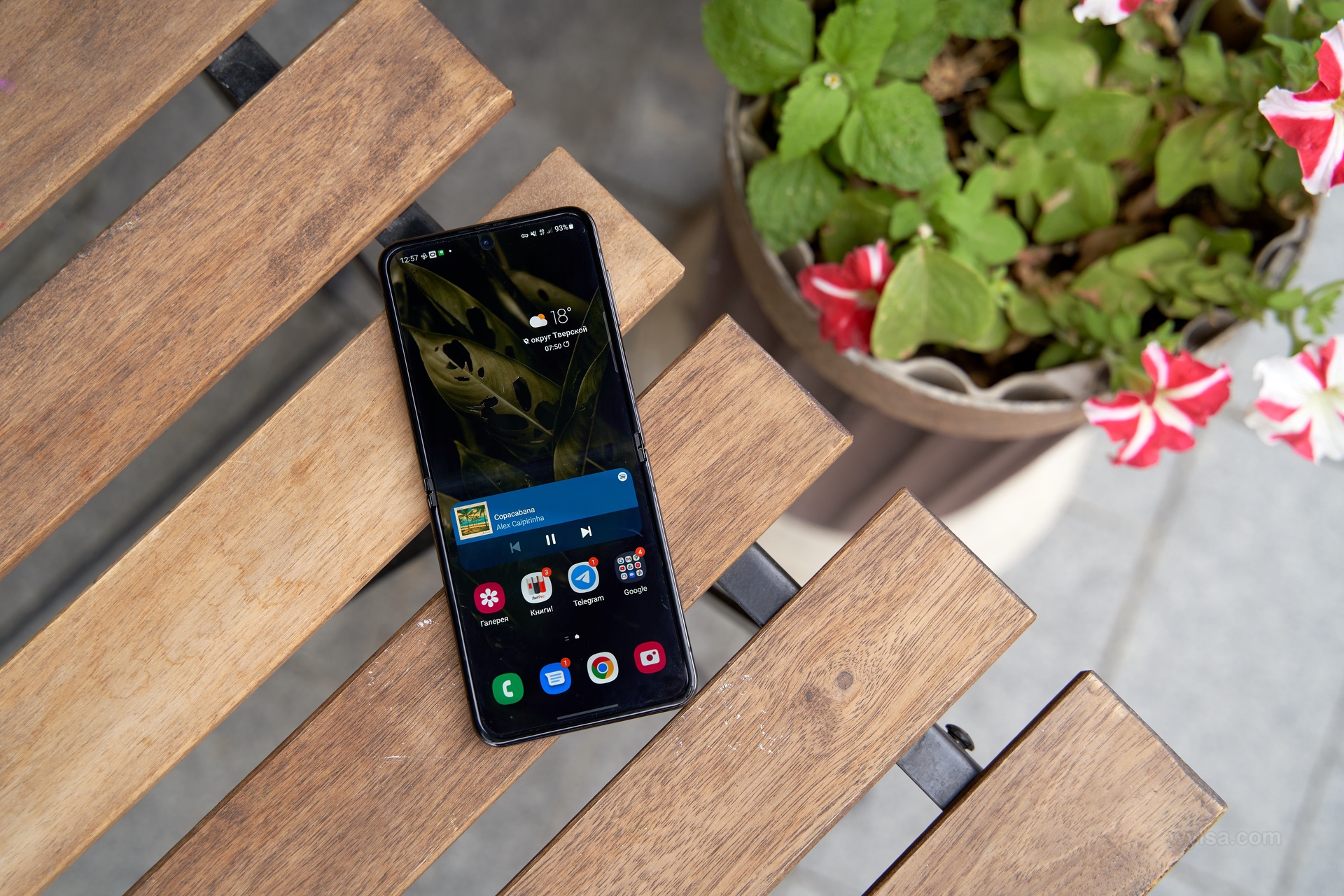 Now more durable Corning Gorilla Glass Victus + is used – I did not crash test, but there were no significant scratches. There was a feeling that the case was not scratched at all, but when I took photos of the device, I noticed a scratch on the bottom of the Z Flip4 case.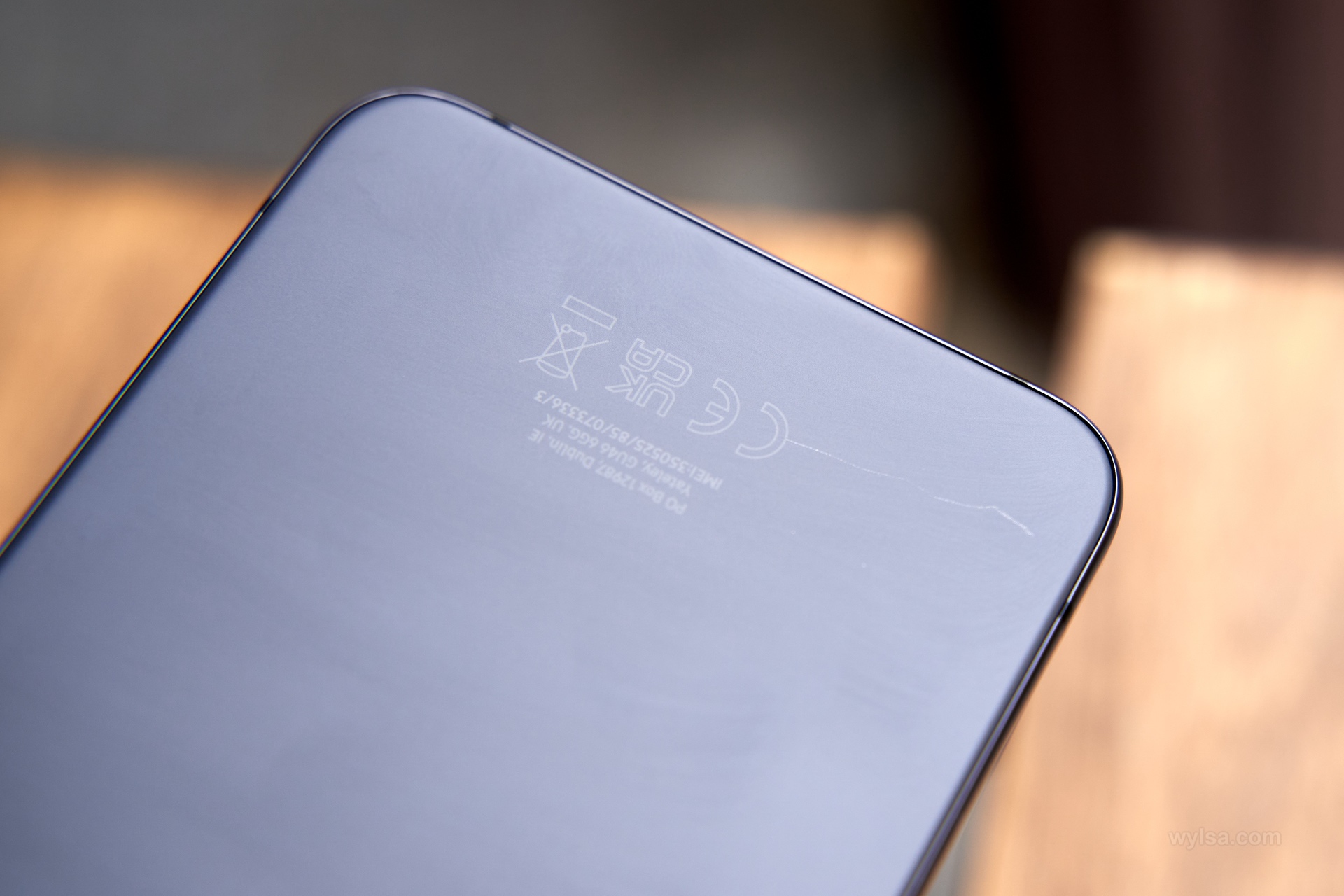 The cover will not hurt if you are kind to the appearance of the smartphone. At the same time, the surface collects prints, and the frosted glass must be wiped from time to time. IPX8 moisture protection has also been preserved – the phone can withstand a half-hour stay at a depth of up to 1.5 meters.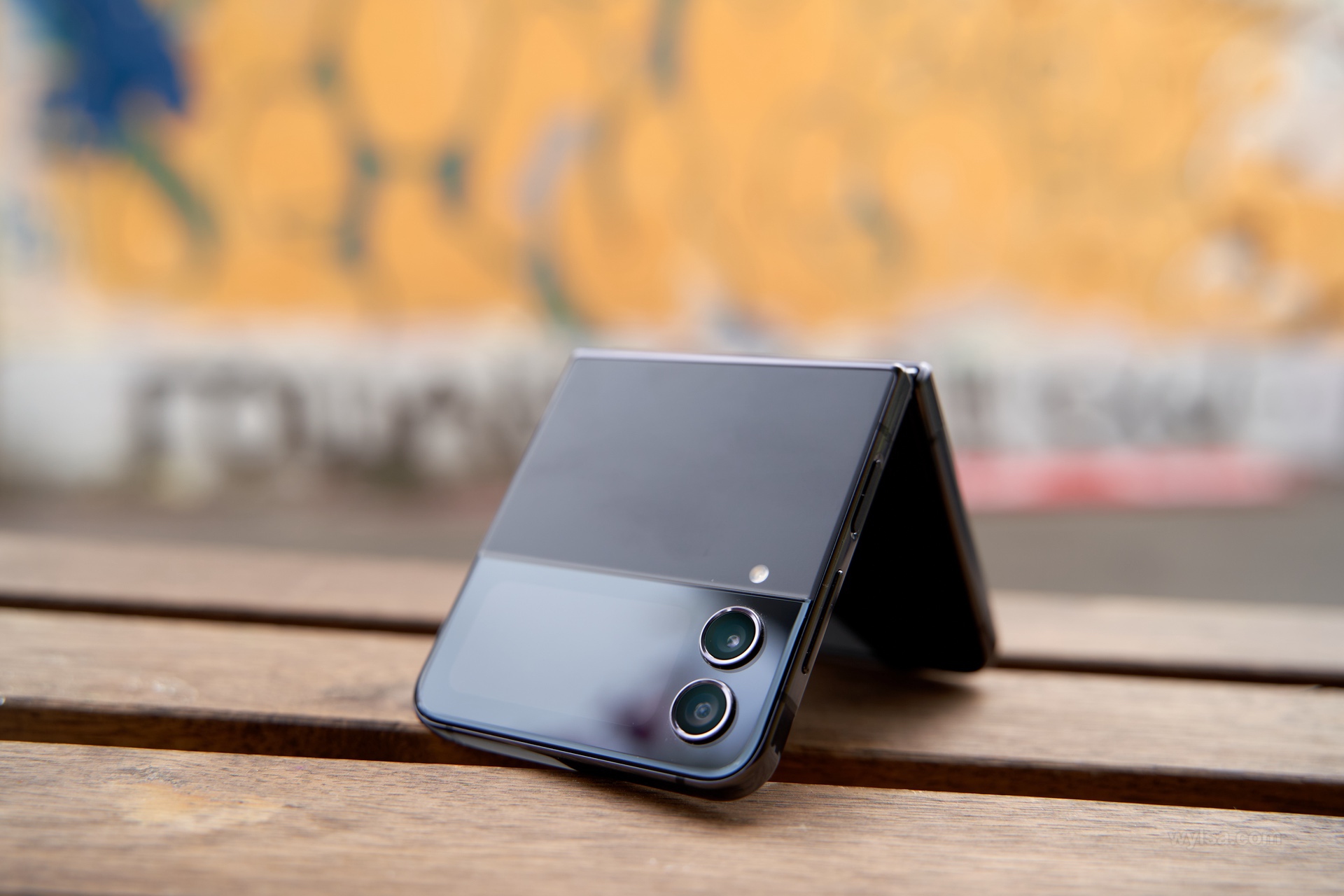 The most exciting thing is, of course, the disclosure mechanism. It is so tight that it is most convenient to open the smartphone, helping with the second hand, so as not to drop it on the pavement accidentally. It is also more convenient to fold it with the help of a second hand – there is no auto-closer here, but it would be beneficial.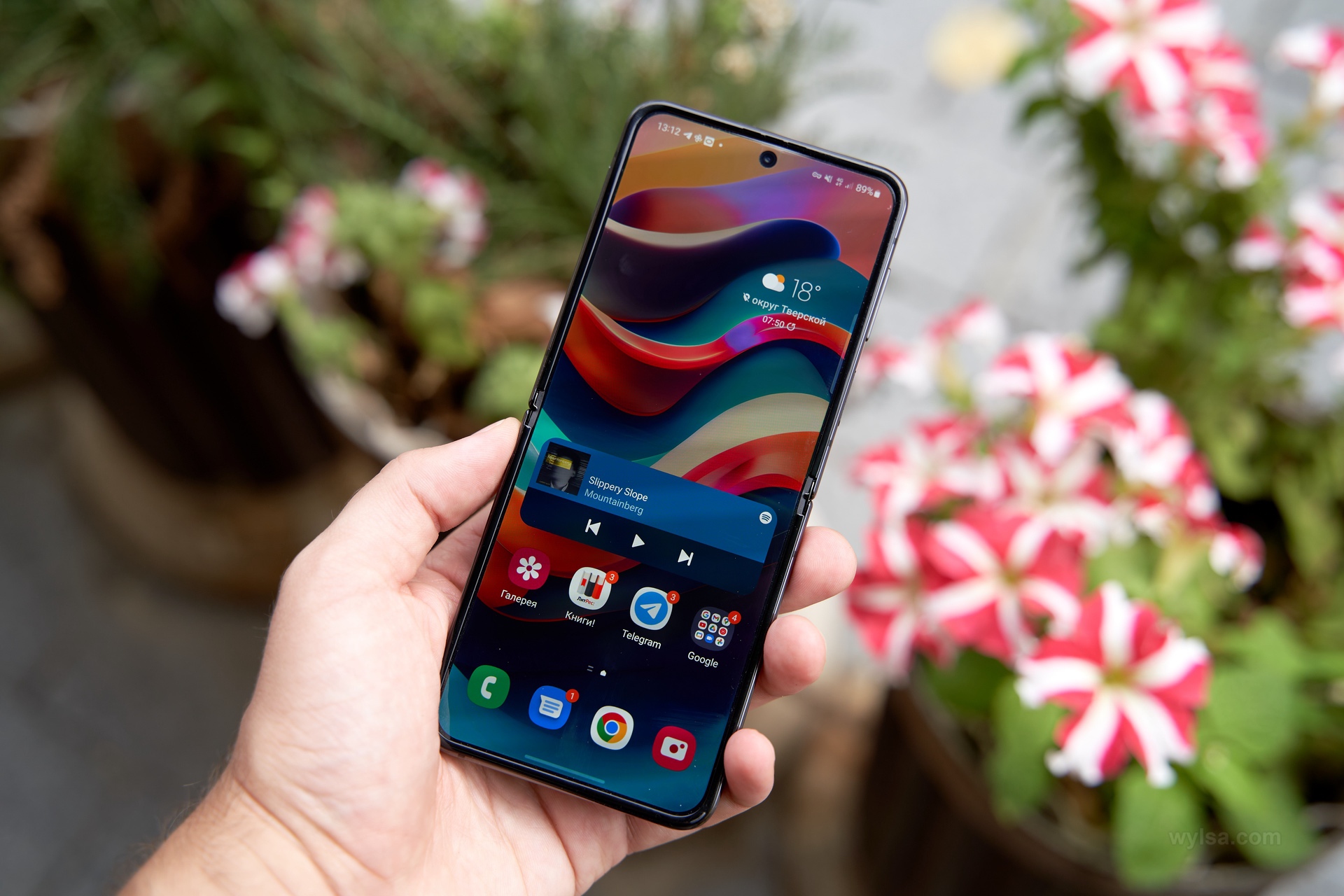 In the process of use, peculiar moments related to ergonomics emerge. The volume buttons are too high, as is the power key with a built-in fingerprint scanner on the right side. However, you can unlock your smartphone through the front camera, even if this method is not very reliable.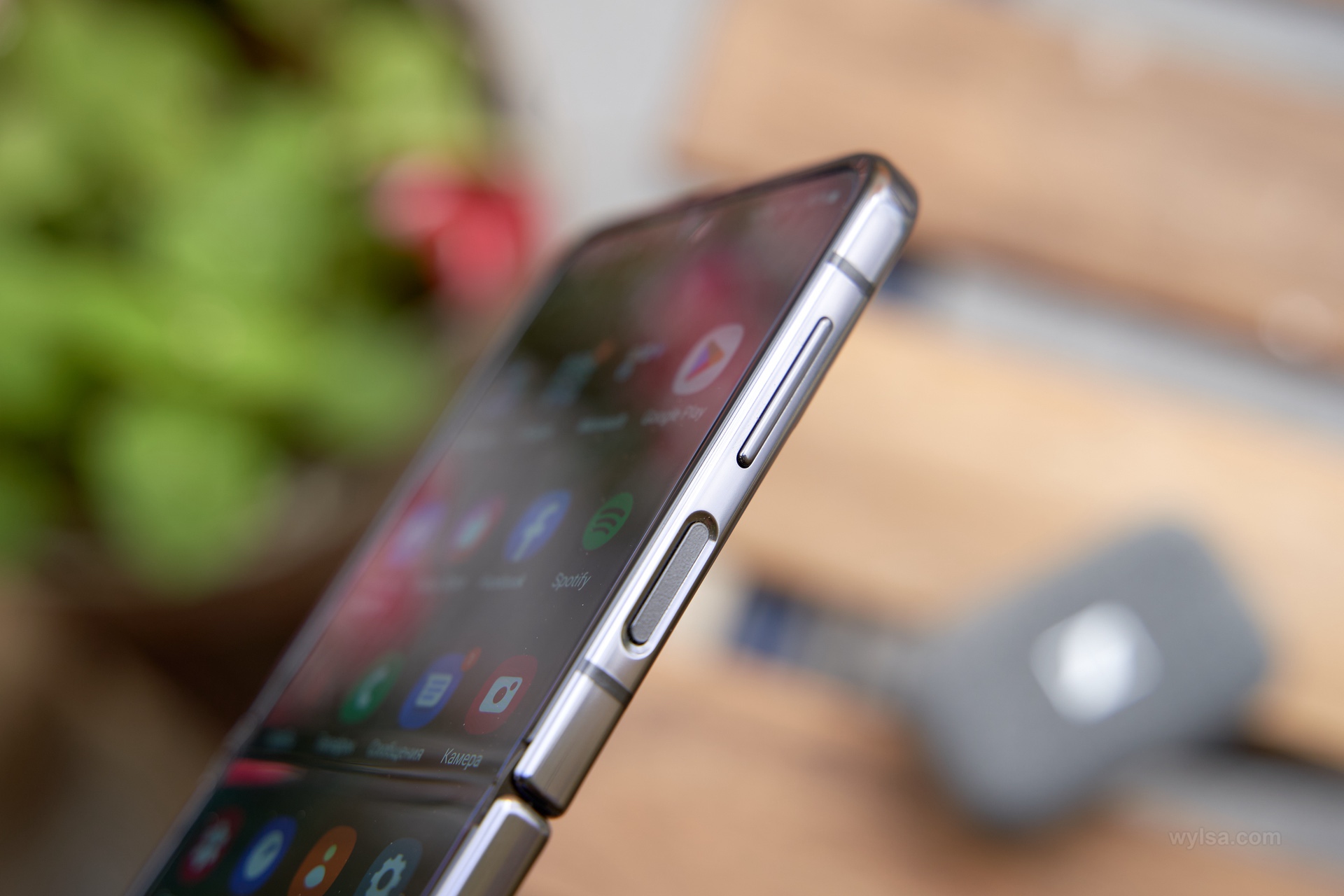 Carrying a smartphone in your pocket is not very convenient – when folded, the Z Flip4 is quite plump and resembles a small box in size. Luckily, it's not as bulky as the Sony or Sennheiser headphone cases in the photo, but you still have to sacrifice comfort. The usual flat elongated smartphones, for me, are more convenient. Although no one forbids putting the phone in the pocket in the unfolded form, this is still quite strange behavior. Moreover, when you walk in jeans, the smartphone falls to the bottom of the pocket – it is not always convenient to remove.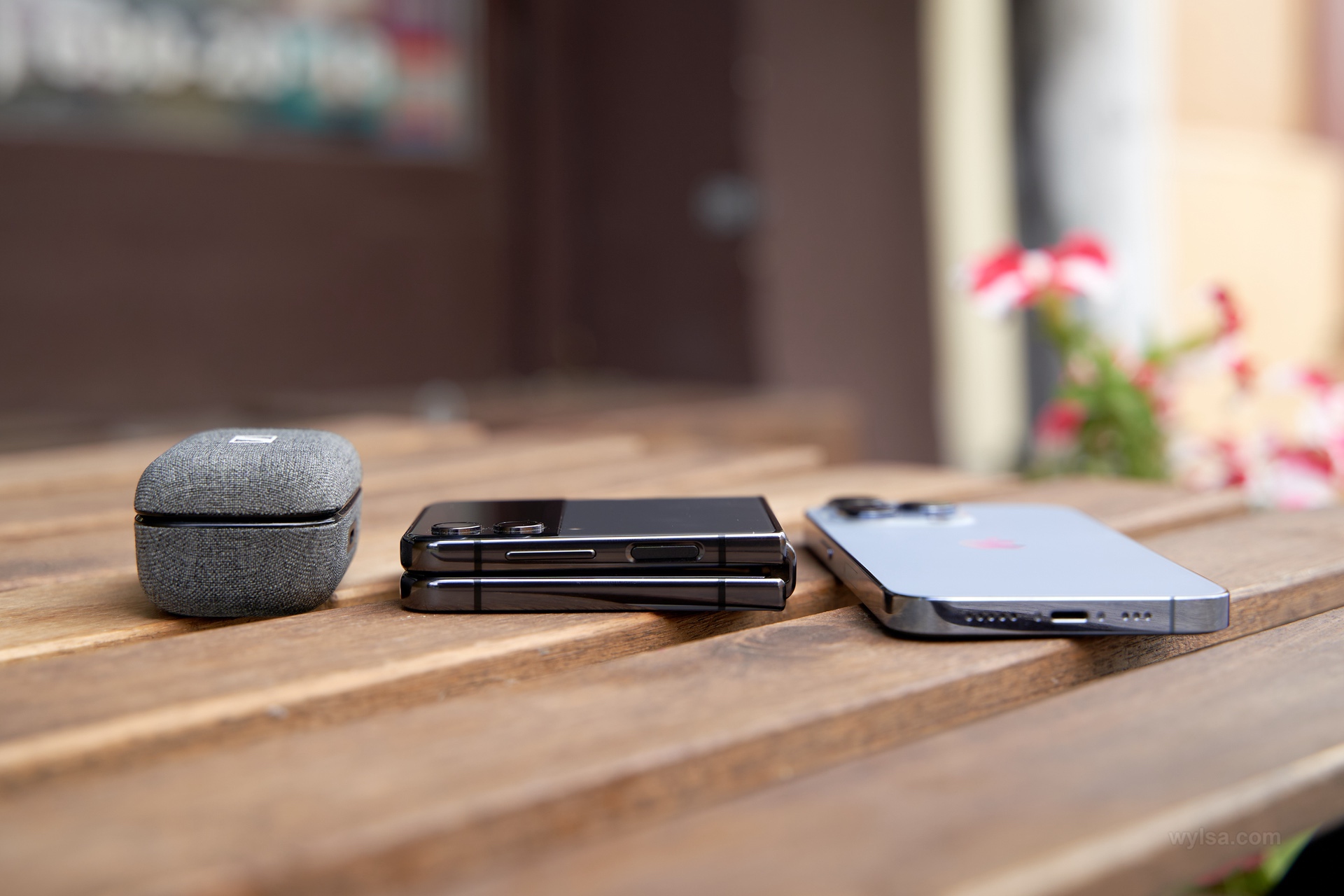 The case has flat edges, while there are no sharp edges, so it feels right in the palm of your hand. Moreover, the glossy sidewalls do not slip out, and there is no fear that the smartphone will fall out. I note that several times I had situations when the smartphone in my pocket switched the player's tracks the external screen was waking up.
Two displays, one bar
In the unfolded state, the hinge is hardly noticeable and does not catch the eye, except that you can pay attention to the crease in the middle of the screen. And so, when unfolded, the smartphone is easy to confuse with some ordinary candy bar.
Diagonal 6.9 inches, Full HD + resolution, and a frequency of 120 Hz, if anyone is interested in the characteristics. You can adjust the operating frequency in the settings: limit it to 60 Hz mode or select an automatic profile when the frequency changes from 1 to 120 Hz, depending on what is happening on the screen.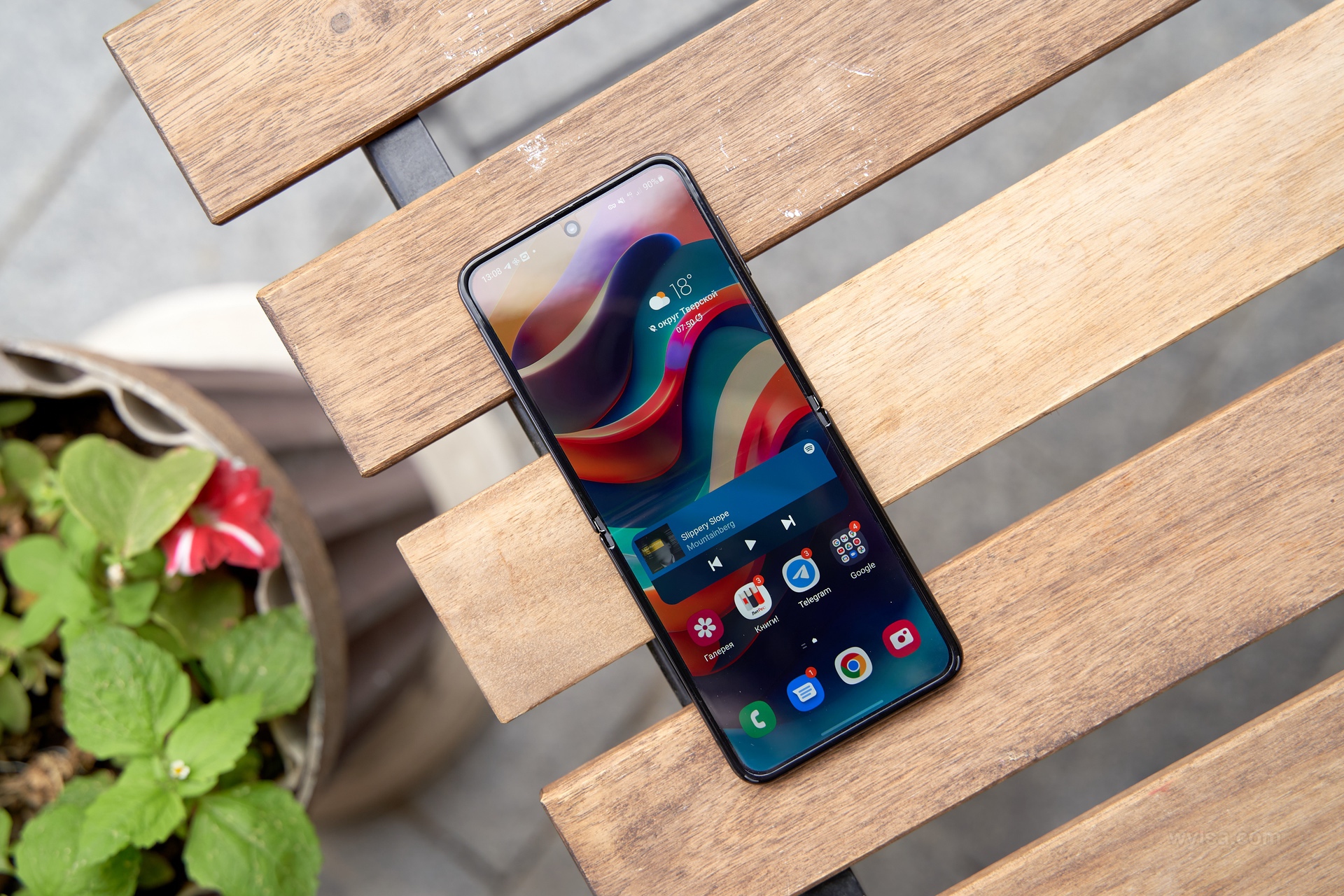 It's a pity, but the front camera has not become a sub-screen, as in Z Fold3 or 4. Here it is still clearly visible. The sides around the perimeter also remained, although they once again worked on their sizes and made them a little thinner.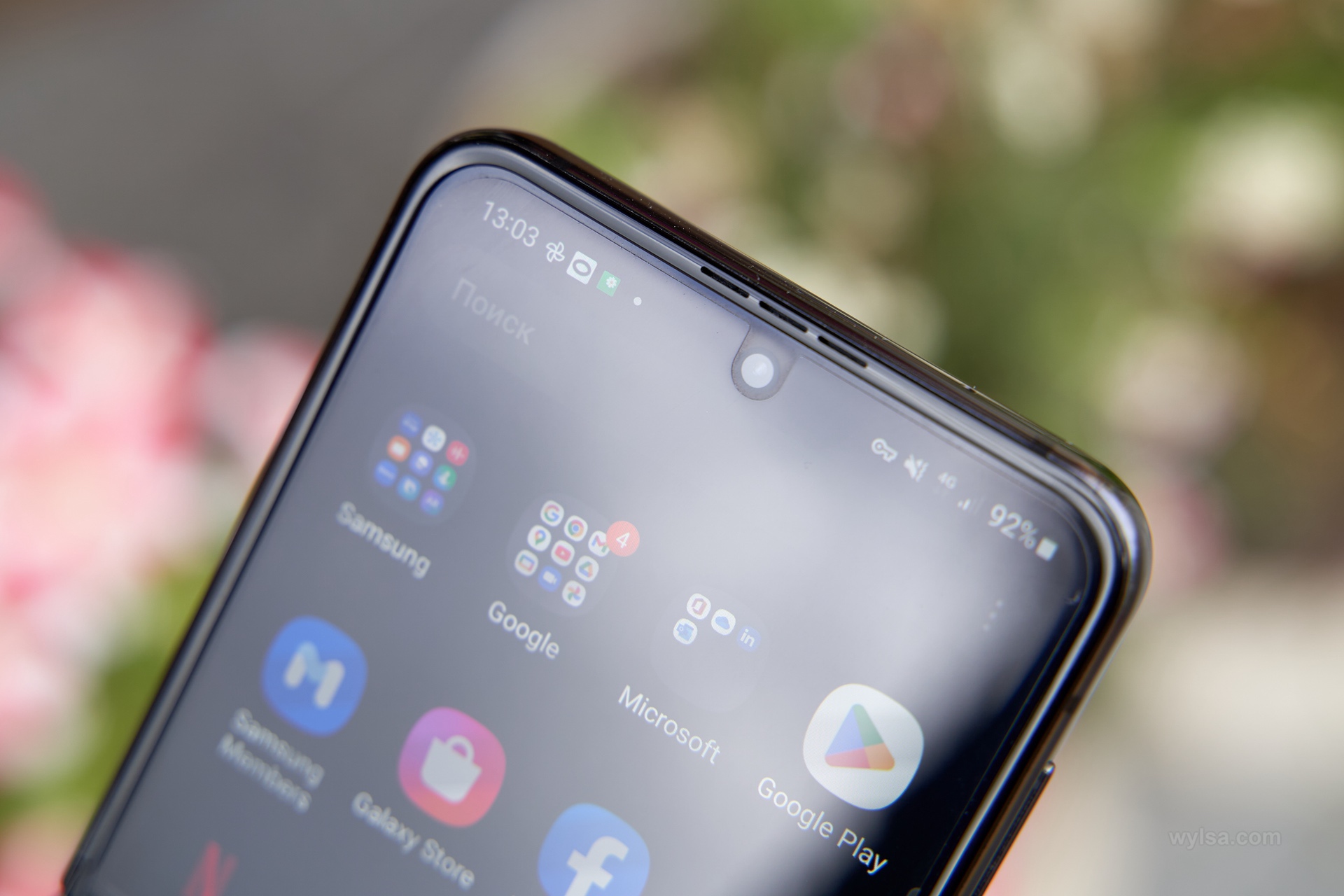 The display is bright and juicy – a Dynamic AMOLED 2X matrix with a reasonable margin of brightness if you activate the "Increased brightness" setting. You can only find fault with the unusual aspect ratio of 22:9. But it is convenient to use two applications simultaneously: you can chat in Telegram and read texts on websites or watch videos using multi-window mode. At the same time, the freedom of choice of angle remains: a tight hinge helps to find a comfortable position.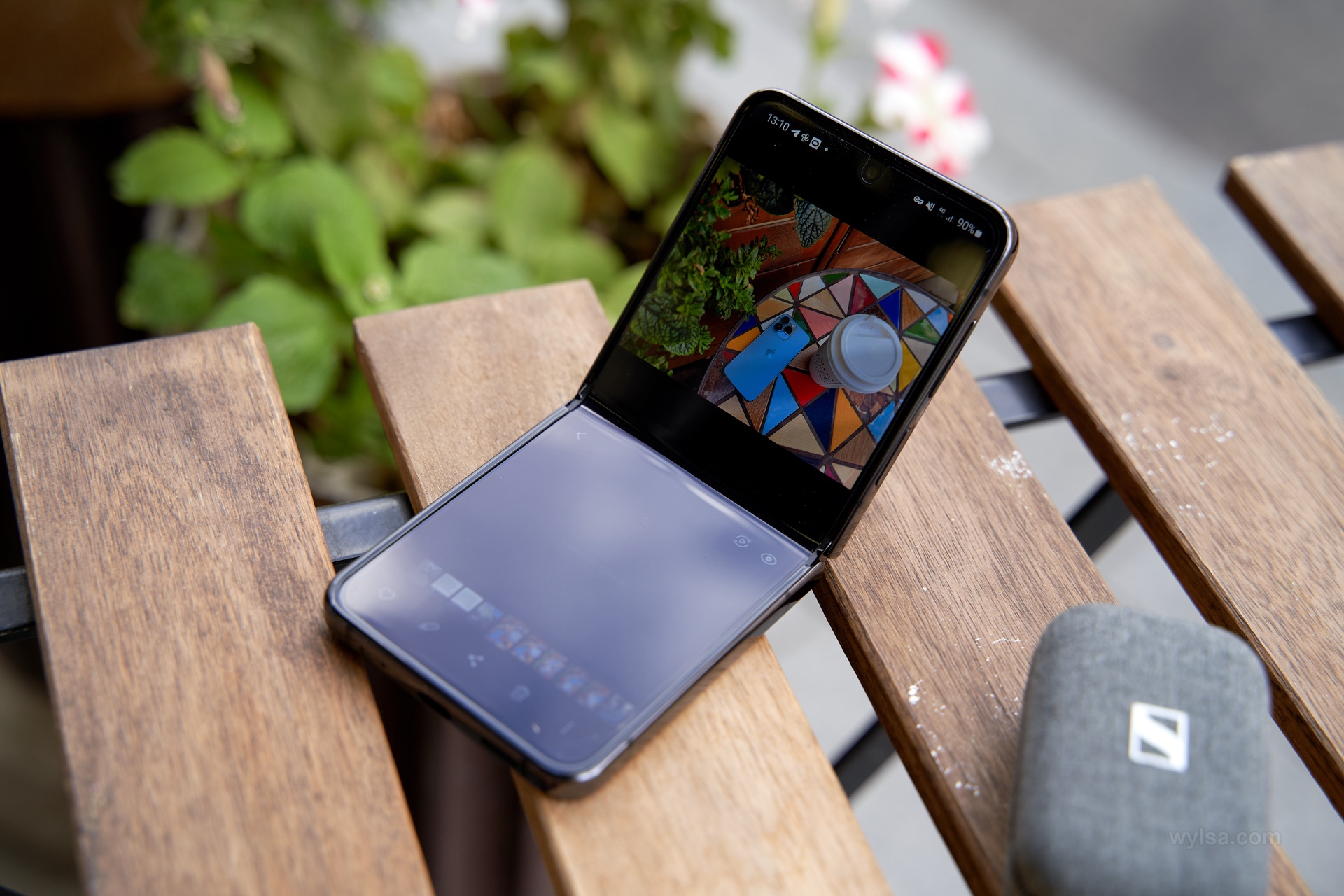 An additional 1.9-inch display, of course, is color and touch-sensitive and displays auxiliary information such as the number of steps taken and weather data, shows notifications, and helps control music. In addition, it works as a viewfinder when shooting and also opens the control center for wireless services, and you can also answer calls without opening the case.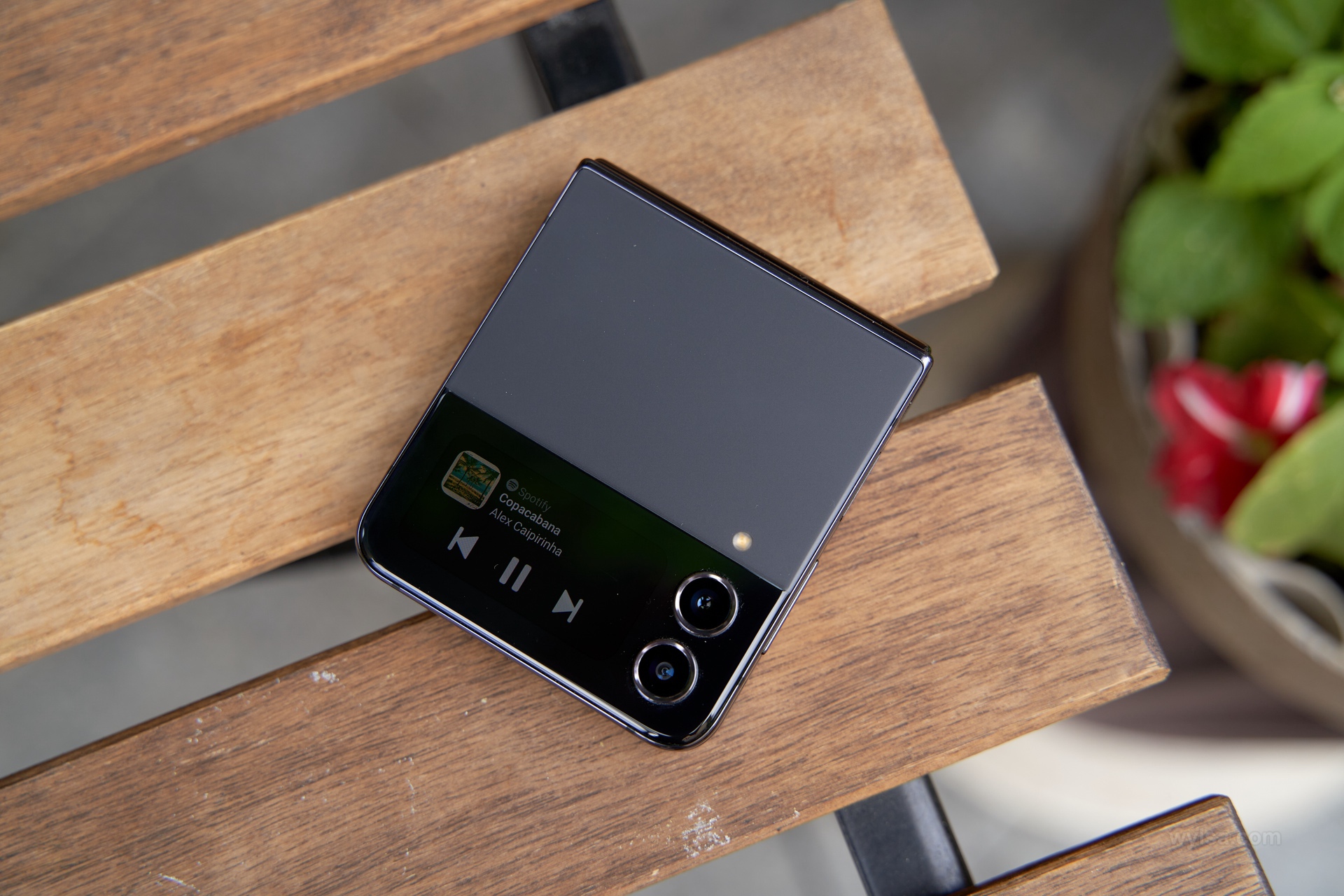 Camera
While I was shooting on a smartphone, I had only pleasant impressions from the camera: it starts up quickly, and the photos are excellent in different conditions. Then it's time to evaluate the results on a large monitor – I liked the daytime shots, but not the evening ones. And do not forget about the exciting feature of the Z Flip4, because here, thanks to its flexible nature, you can use its primary camera for selfies, not the auxiliary one.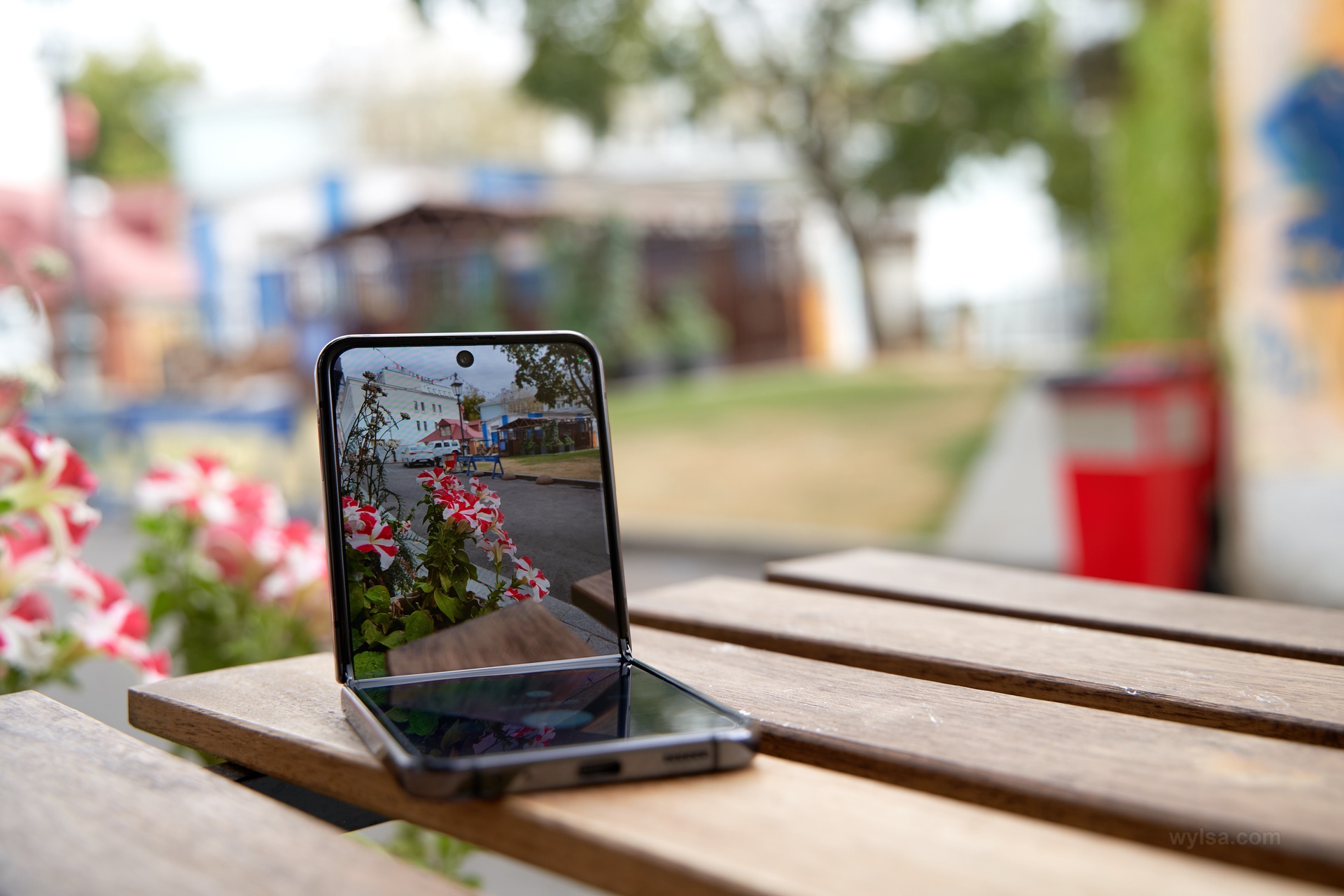 A smartphone with a pair of 12-megapixel cameras: the main module with optical stabilization, an auxiliary wide-angle without it, plus a 10-megapixel front camera.
During the day, the quality is excellent, with no questions.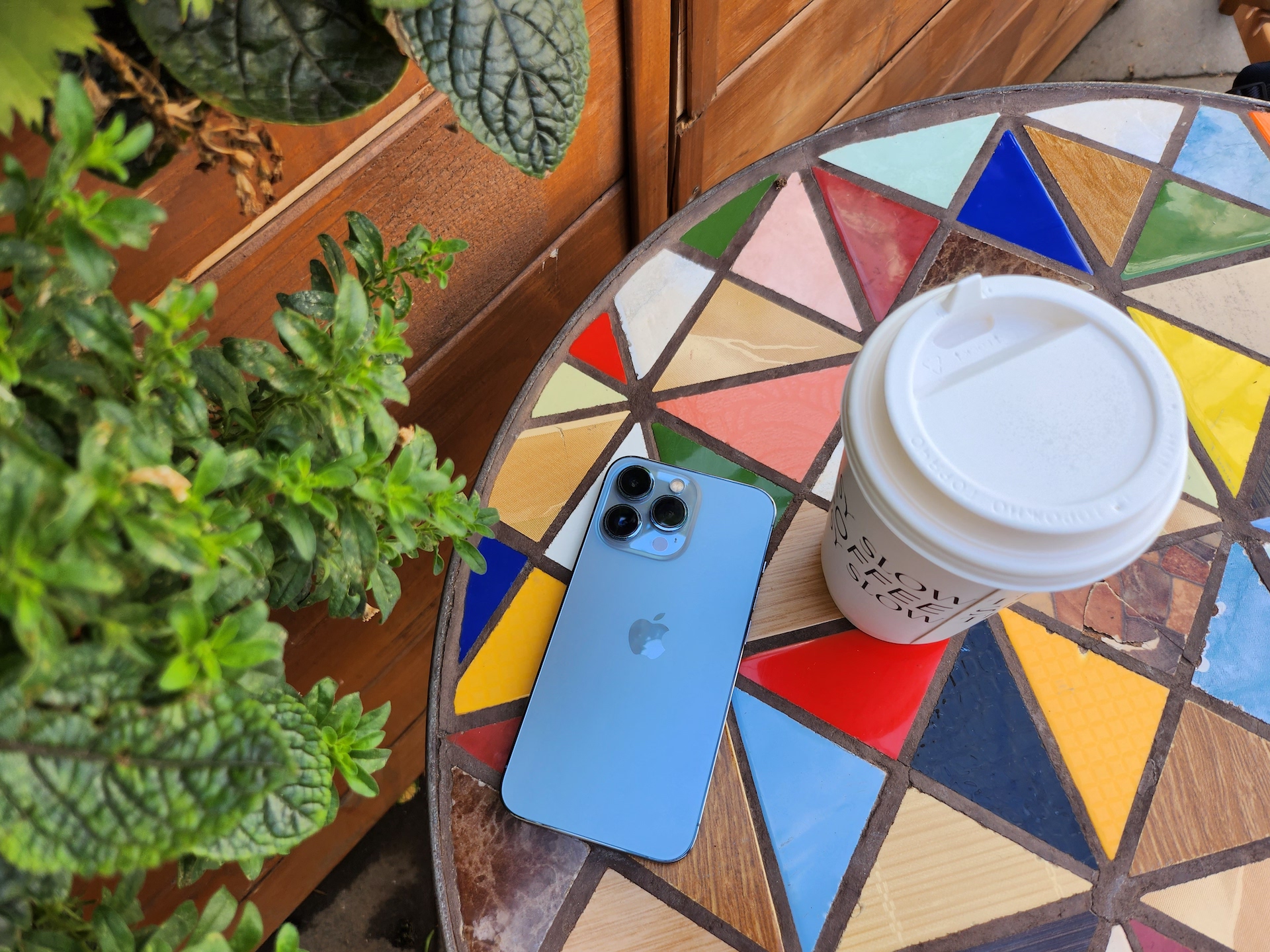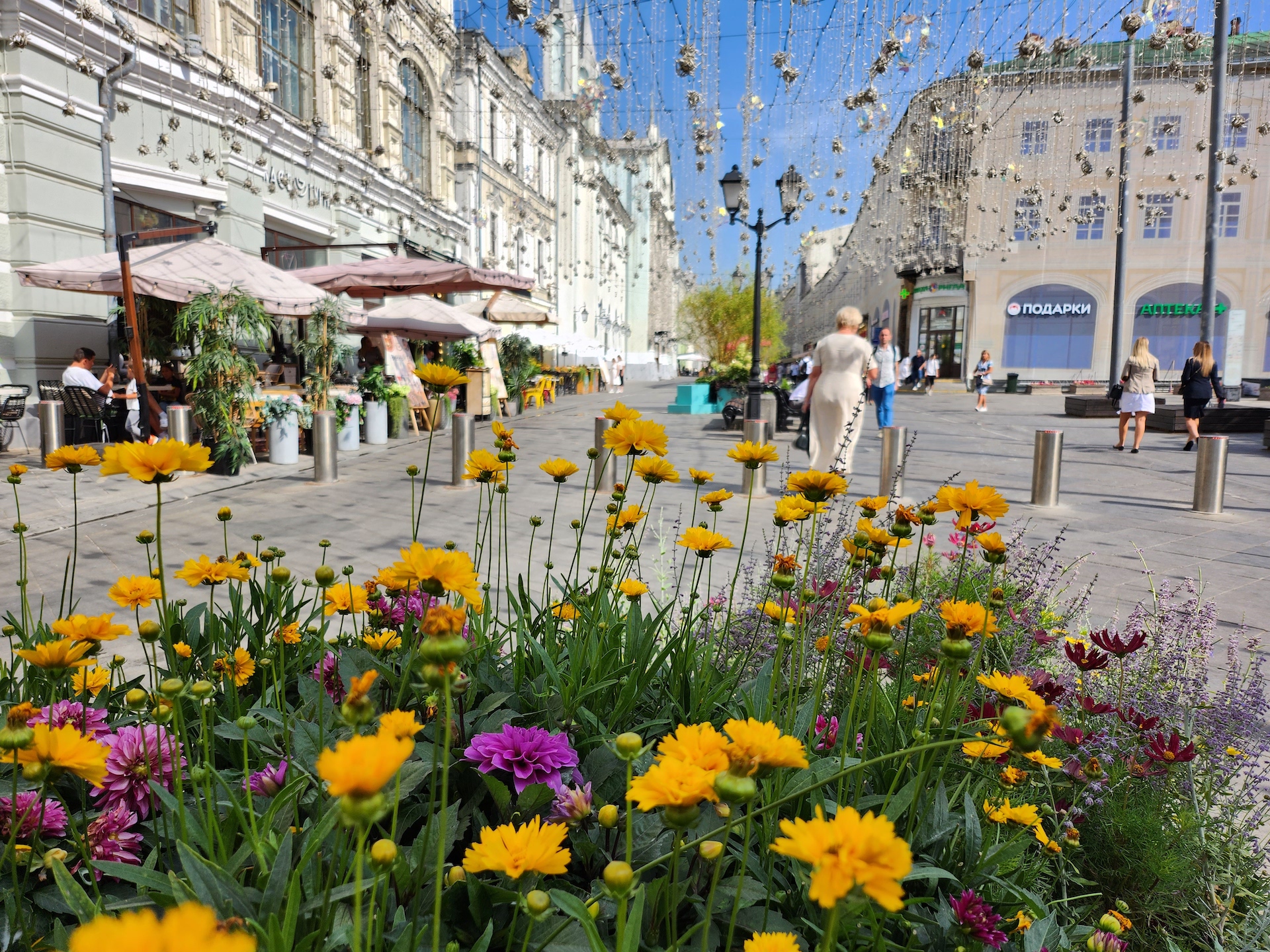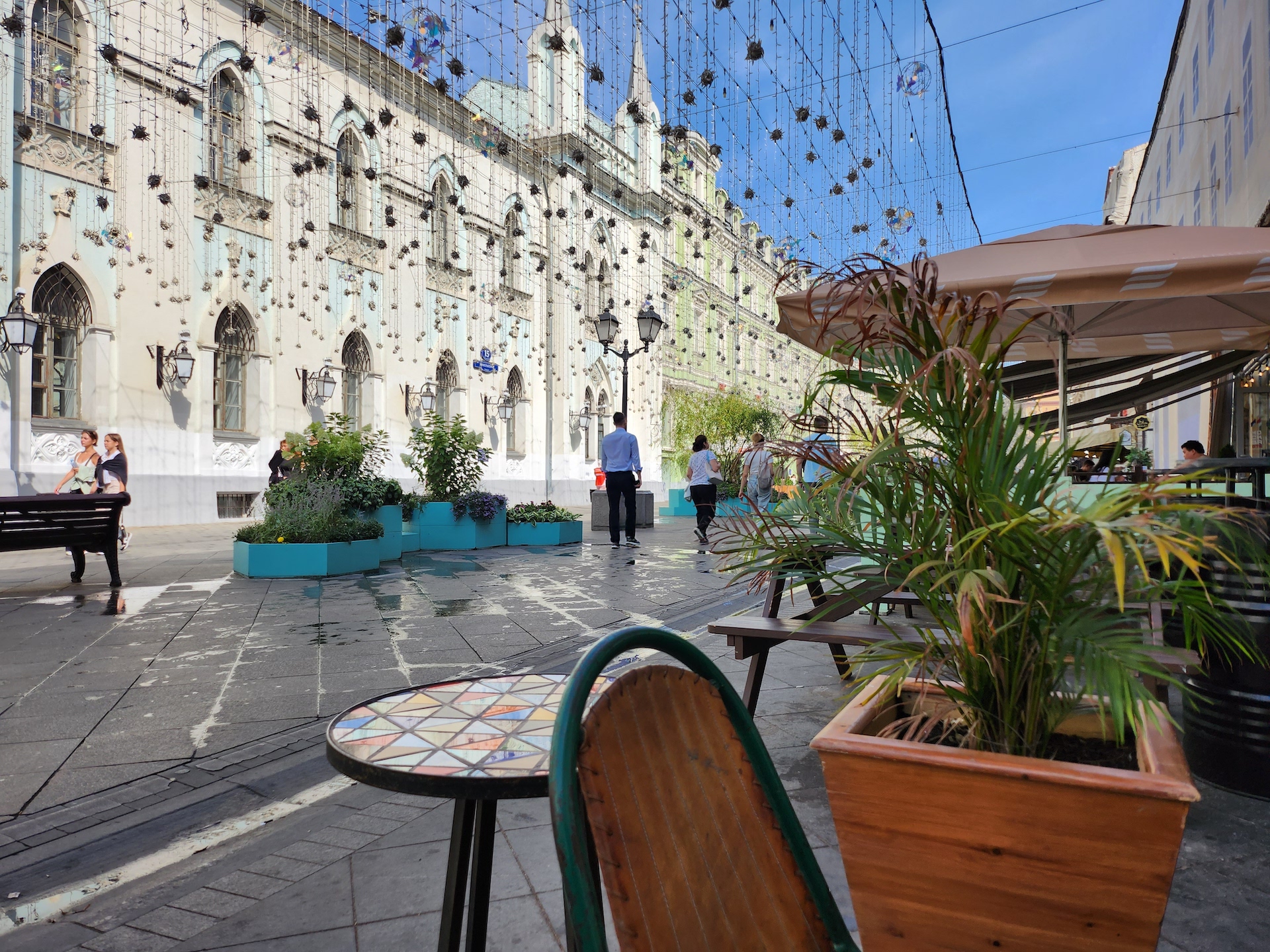 If we talk about evening or night shooting, there is already a noticeable lag behind the flagships. I think that most users will be satisfied with the quality, but the most demanding ones will undoubtedly look towards smartphones with more outstanding results. The Galaxy S22 Ultra will be more attractive in photo quality but will cost less.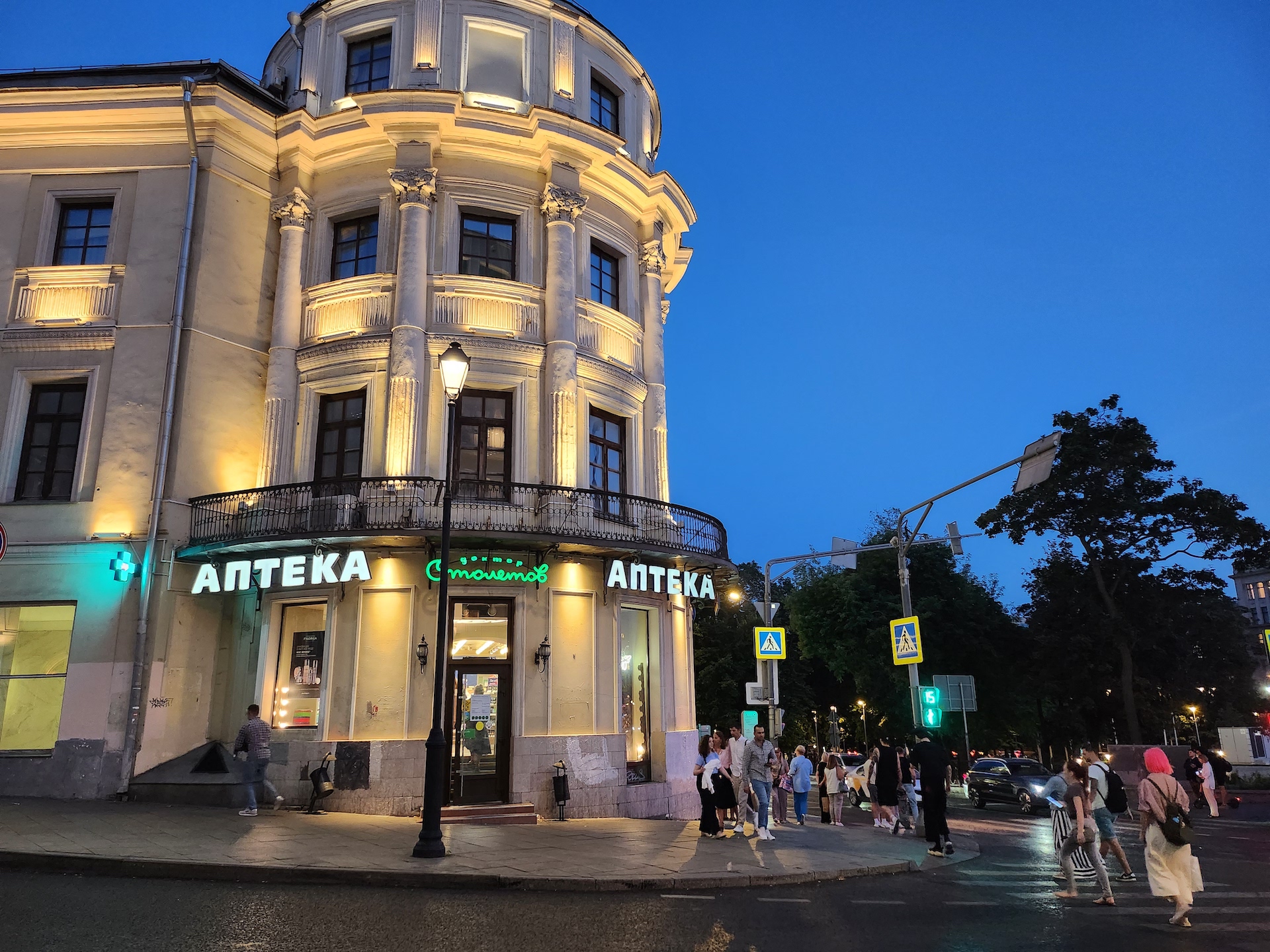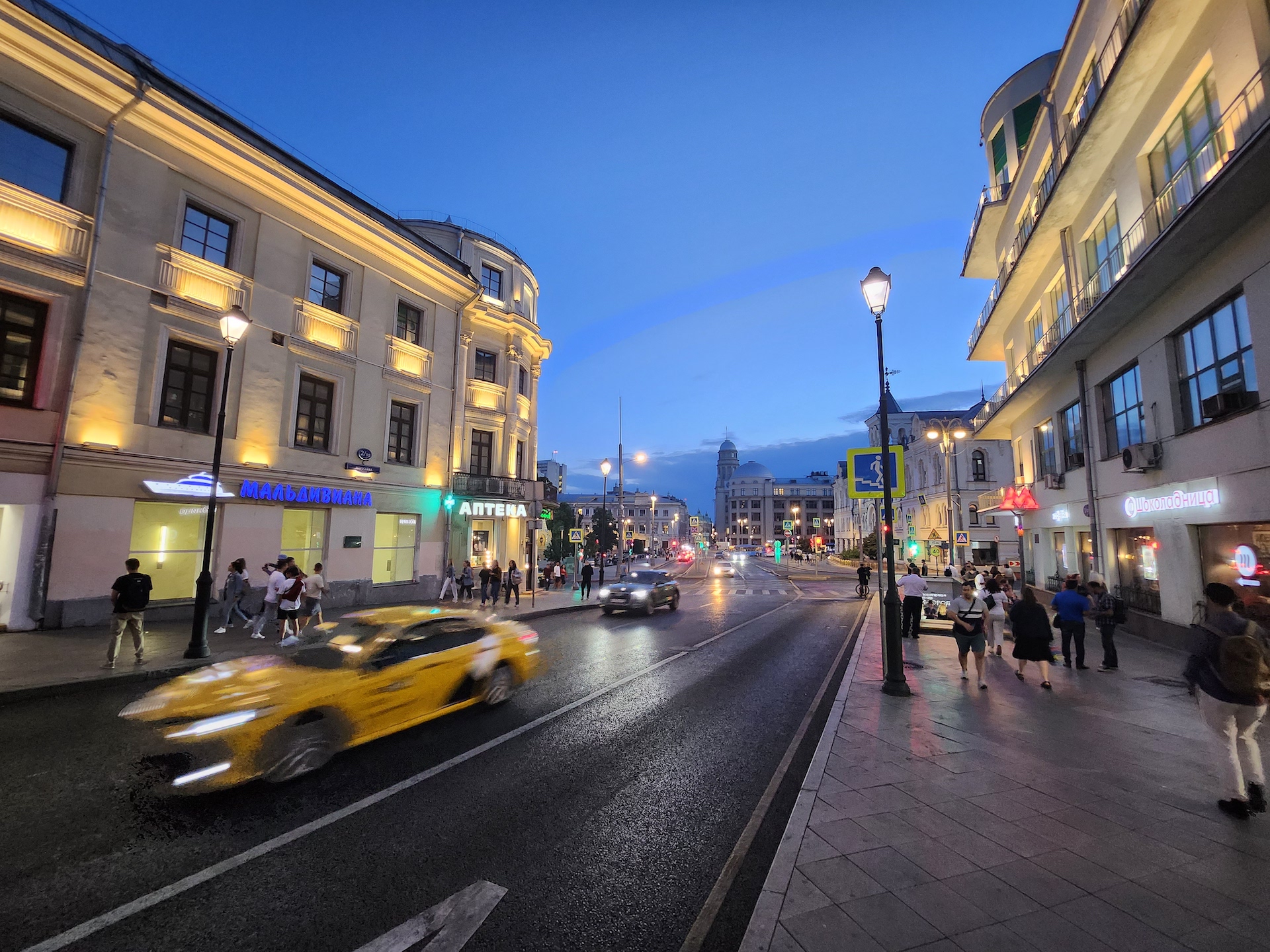 Powerful and hot
The characteristics are top-end. Here is the new Qualcomm Snapdragon 8+ Gen 1, with 8 GB of RAM, and the built-in memory can be 128, 256, or 512 GB. Traditionally, there are no memory cards.
During use, the upper half of the phone heats up, especially when you start actively browsing sites on the Internet, not to mention launching the camera. It does not heat up. I have not had such situations, this is not a hot Google Pixel 6, but the sediment remains. Hypothetically, you can also run benchmarks, but taking into account the specifics of the smartphone, I would not worry too much about throttling. Still, there are no brakes during everyday use, and for games, buying a device with a more efficient cooling system is more logical.
The stereo speakers sound decent, create a feeling of volume, and the call is always audible. I listened to music on Spotify using the Dolby Atmos advanced setting in my smartphone settings paired with the Sennheiser Momentum 3 Wireless. I will be brief: the sound is excellent, primarily if you activate the Dolby Atmos setting on your smartphone. There is no connector for connecting wired headphones. The mini-jack is a thing of the past.
Enough charge for a day
Considering the device's specific format, the battery capacity had to be sacrificed. Although the capacity has increased from 3400 to 3700 mAh relative to its predecessor, the smartphone cannot boast superior results. I got about 4-4.5 hours of screen time on a single charge. From morning to evening, without active use, the smartphone survives, but of course, I would like more.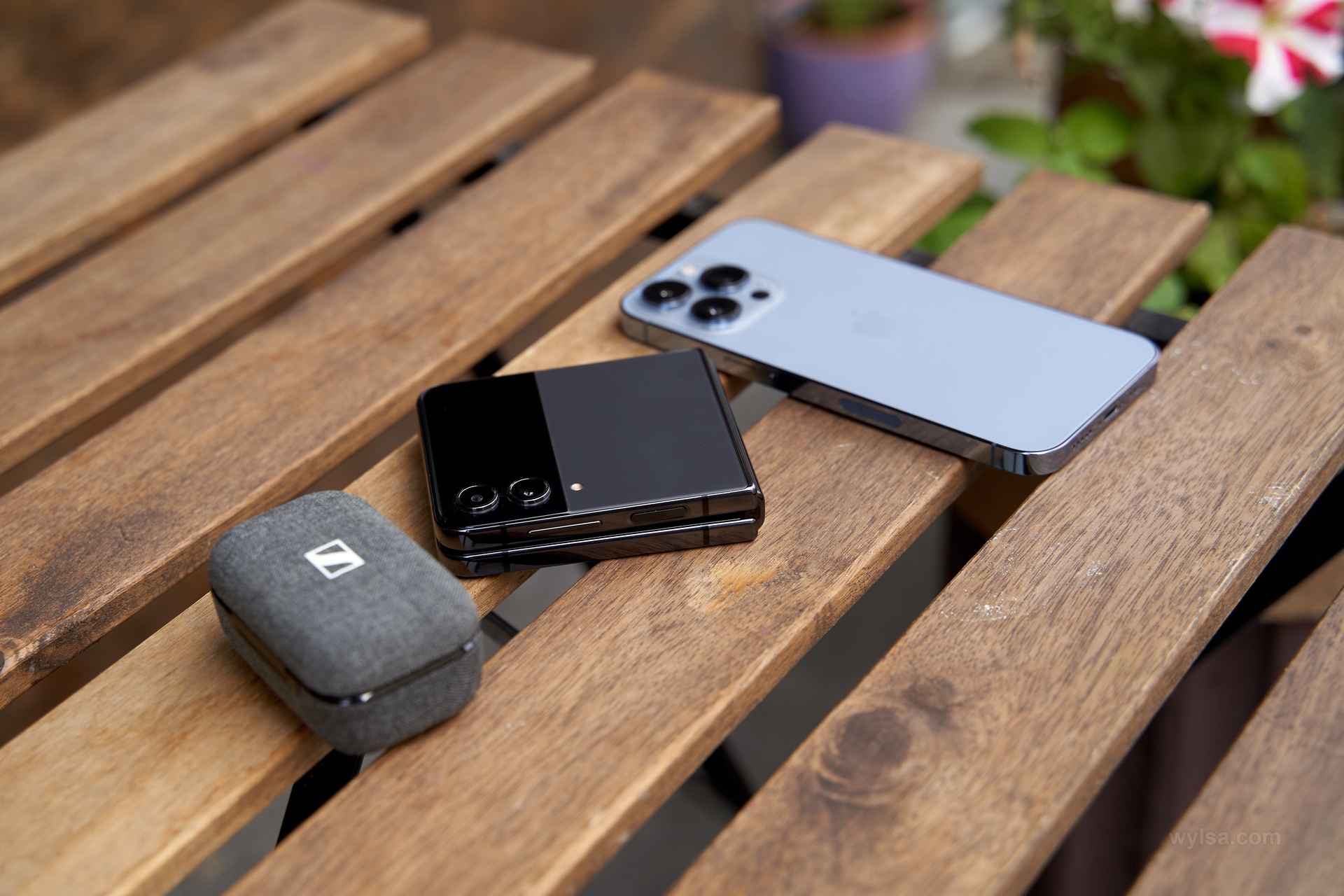 There is no power adapter included with the Galaxy Z Flip4, so you should get hold of fast charging. Moreover, Flip4 supports up to 25 watts, unlike Flip3, whose power was limited to 15 watts.
The smartphone supports not only wired but also wireless charging up to 15W. They also saved reverse charging – a complete set.
Impression
Folding smartphones have been on sale for a long time, but I can say that you still pay attention to them when you see them in someone's hands. They never became common and remained select smartphones. And suppose the idea of ​​​​buying large devices like the Galaxy Z Fold can be explained from a pragmatic point of view, where you get something like a compact tablet. In that case, the Z Flip remains an exclusively emotional acquisition. It is not like everyone else. With it, you seem to be returning 20 years ago, when buying a phone, there was choice and variety, and you didn't have to swim through the rows of monotonous gray-black monoblocks.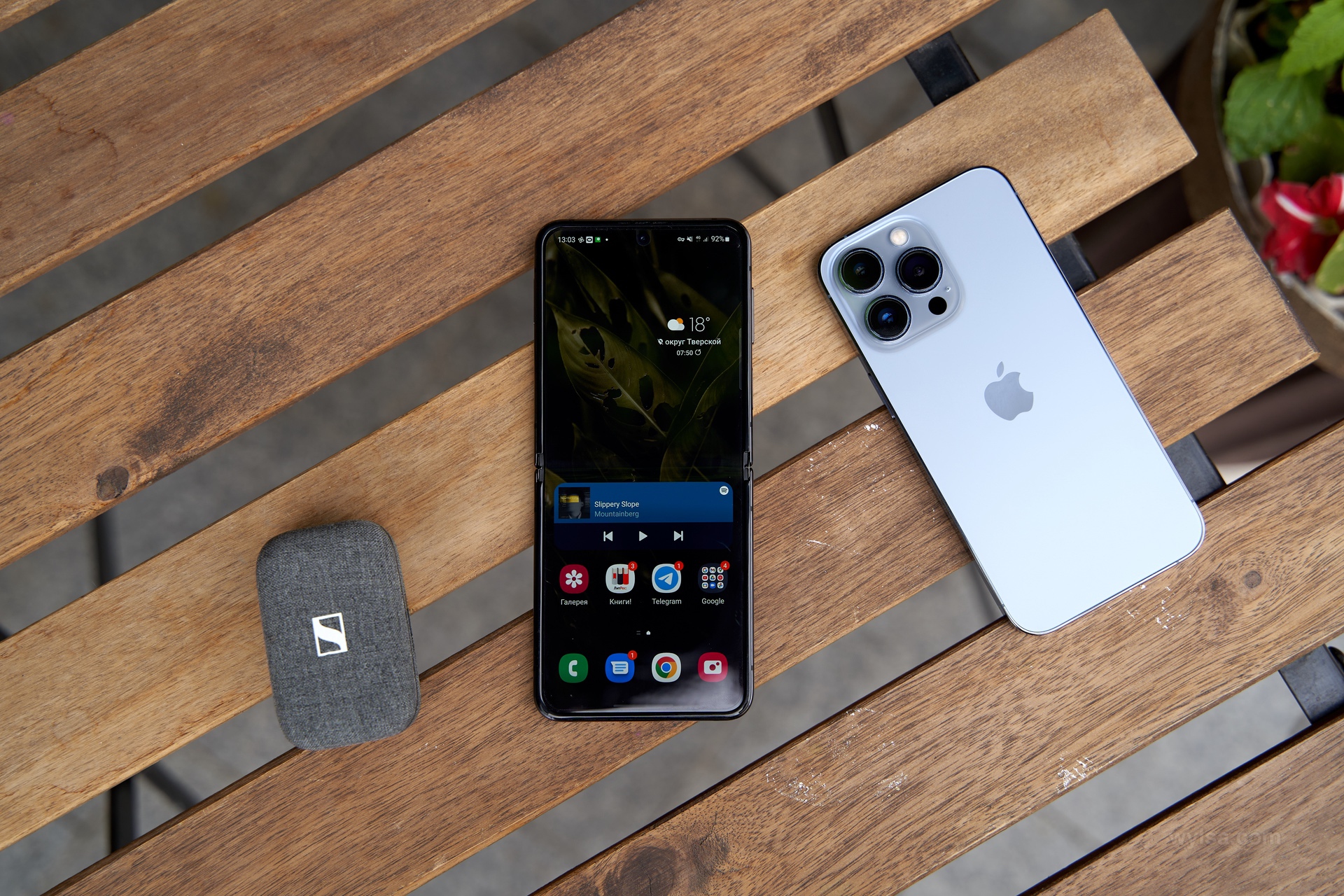 You must pay for exclusivity: modest autonomy, specific dimensions, intense heating. I'm not too fond of the folding essence of a smartphone because it's impossible to use it with one hand. You have to lay it out with both hands, which is uncomfortable. In addition, the Z Flip4 has a very decent case thickness, and it didn't work for me for constant everyday use.
There is no need to talk about official sales yet, but as for the situation as a whole, the new Galaxy Z Flip4 can be bought for $1279. At the same time, the new Galaxy Z Flip3 costs about $649, but this is a common thing for new items. There is no point in criticizing.
Given that the differences between the Z Flip3 and Z Flip4 need to be looked for with a magnifying glass, you can safely buy the Z Flip3 if you are not in the mood to overpay for improvements.
Specifications
OS: Android 12.
Chipset: Qualcomm Snapdragon 8+ Gen 1.
Screens: external 1.9″ AMOLED, 512 × 260, internal: 6.7″ Dynamic AMOLED 2x, 1080 × 2640, 120 Hz.
Memory: 8/128 GB.
Cameras: front 10 MP, main 12 MP, wide-angle 12 MP.
Communications: Bluetooth 5.2, Wi-Fi 802.11ac, eSIM, NFC, USB-C.
Battery: 3700 mAh.
Dimensions: 165.2 x 71.9 x 6.9 mm open, 84.9 x 71.9 x 17.1 mm closed.
Weight: 187 g.
---