For a long time on our site, there was nothing about backpacks. We decided to correct this oversight in cooperation with the Bag & Wallet store, which offered me to try the 25-liter Nomatic McKinnon Camera Backpack in action.
Versions
This backpack has five versions:
just a backpack
backpack and dividers for camera, lenses, and other accessories (Divider Kit);
a backpack and a separate square compartment with dividers (1 large cube);
a backpack and two separate rectangular compartments with dividers (2 small cubes);
a backpack and a separate rectangular compartment with dividers (1 small cube).
I have the latest version in my hands. She, like everyone else, looks like this on the outside: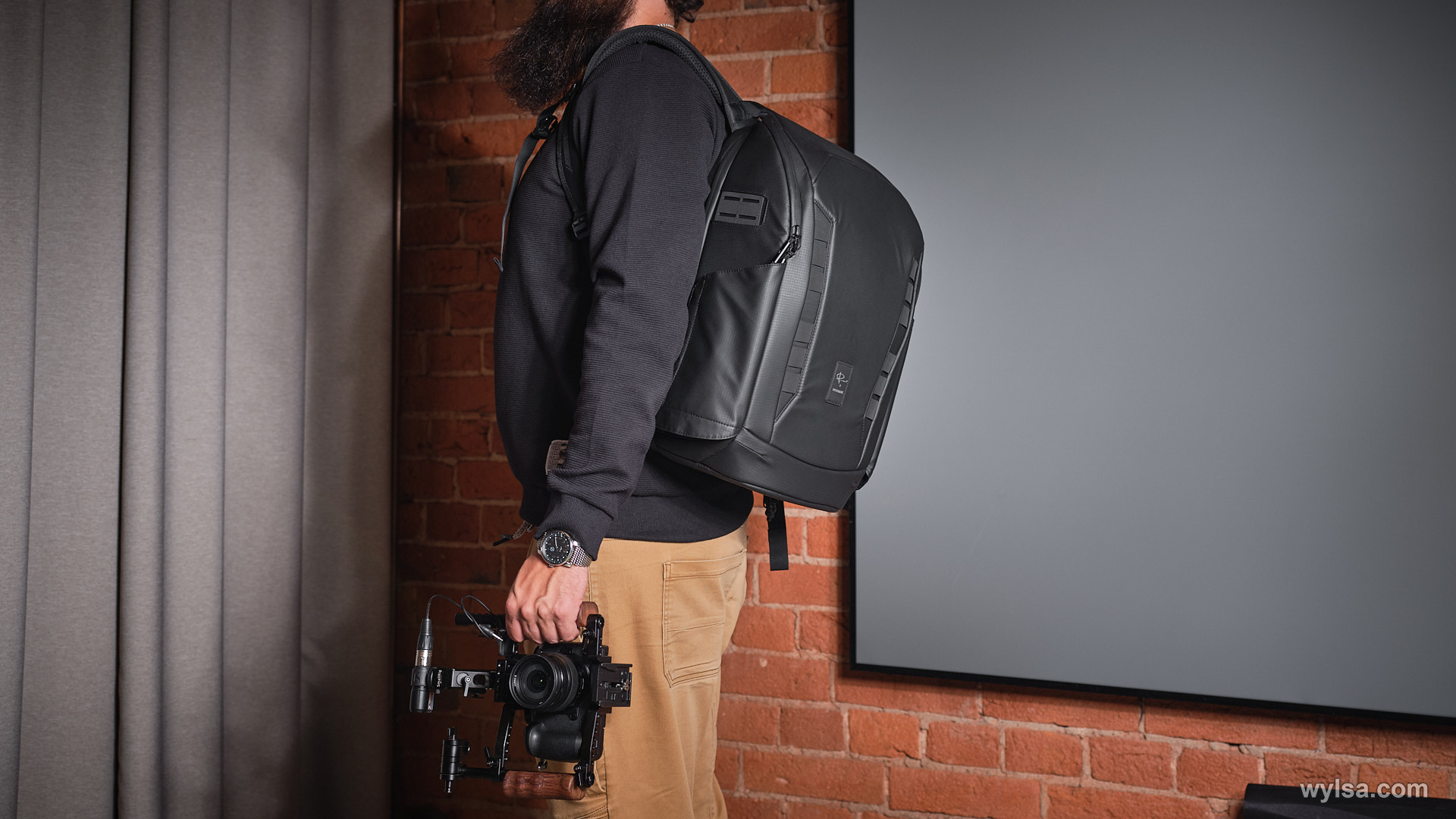 My kit is like this: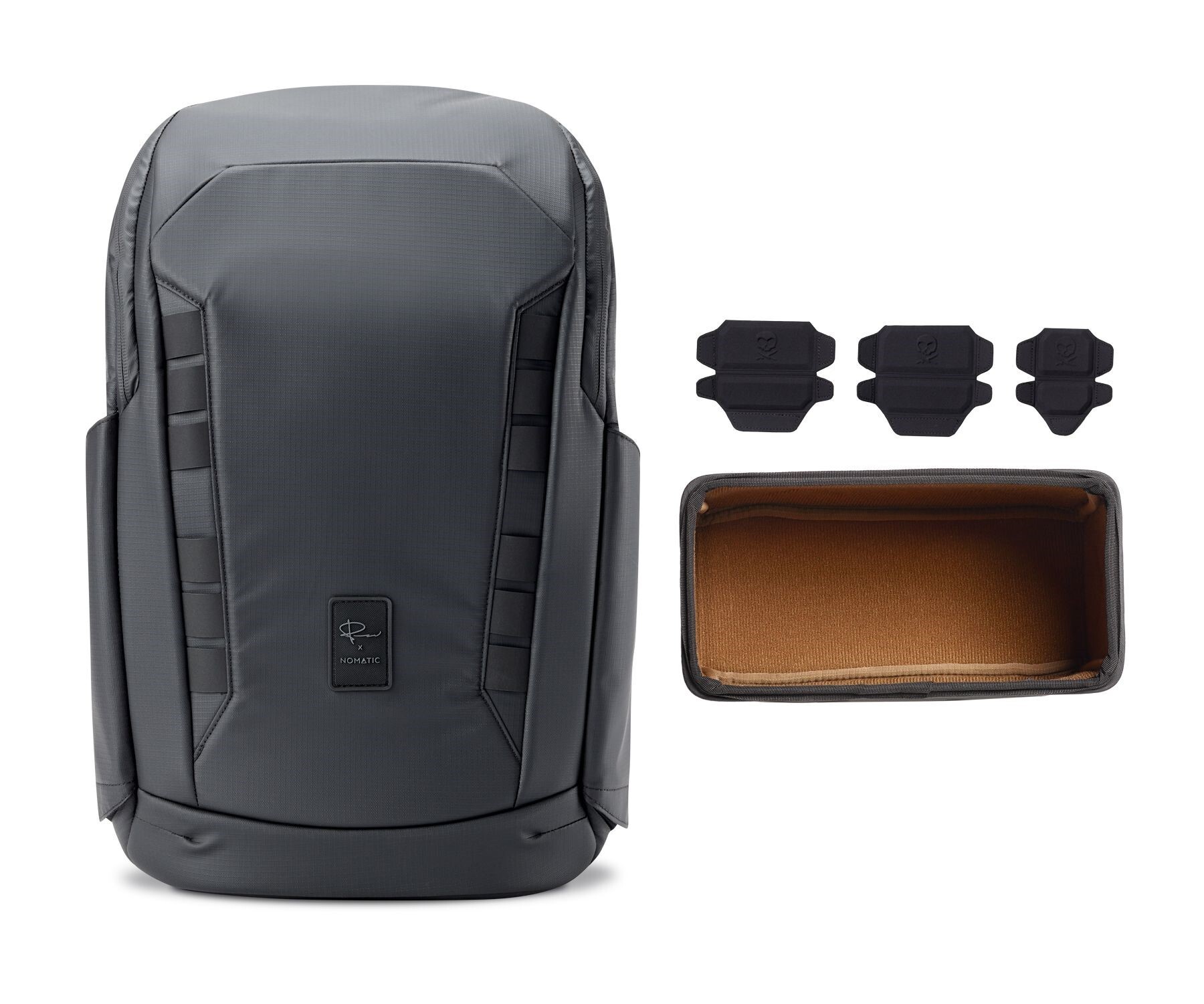 The kit with the largest square compartment looks like this: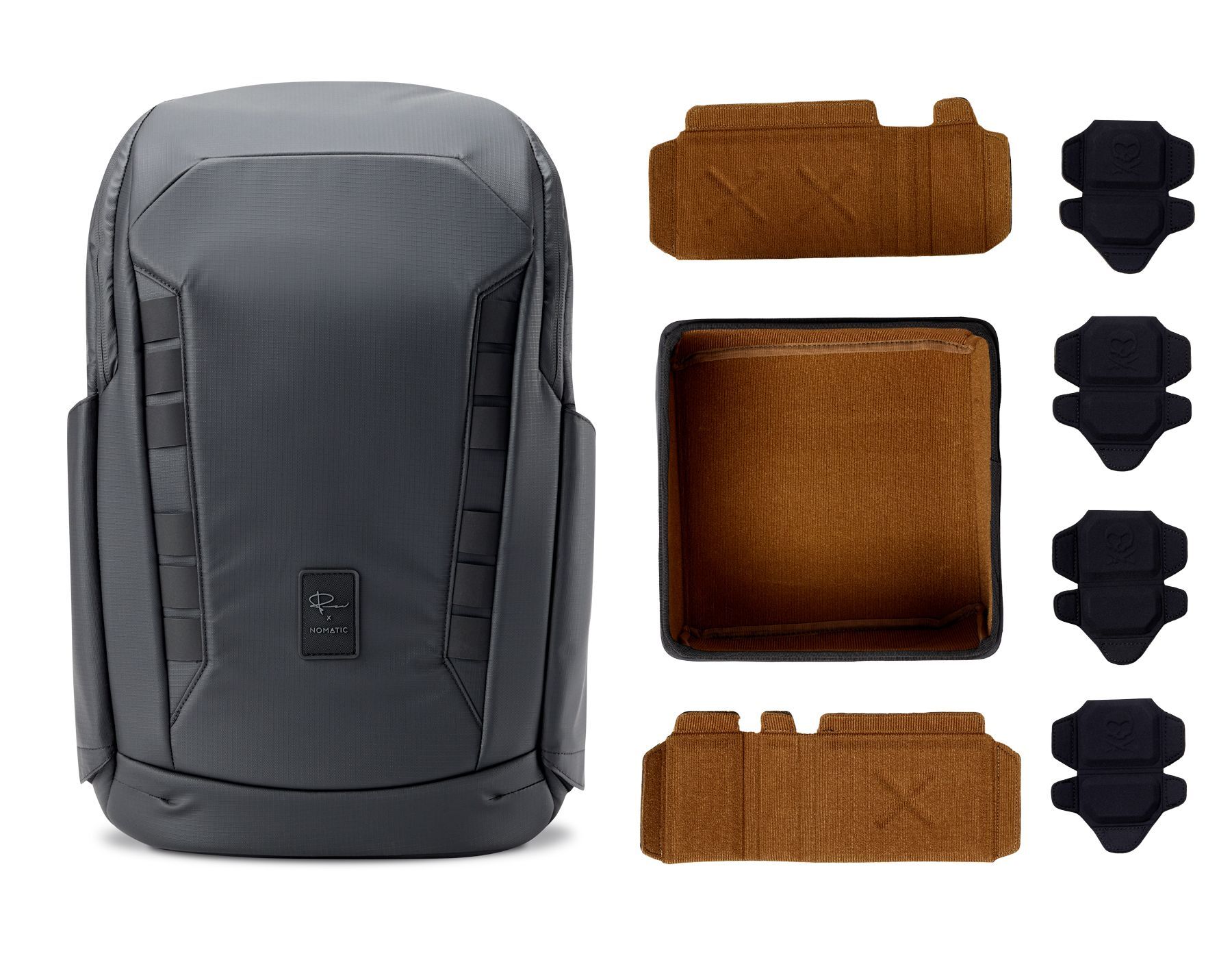 It's a heavy, padded backpack. It cannot be rolled up – it always keeps its shape, no matter what you put there.
There are not so many compartments outside: three pieces.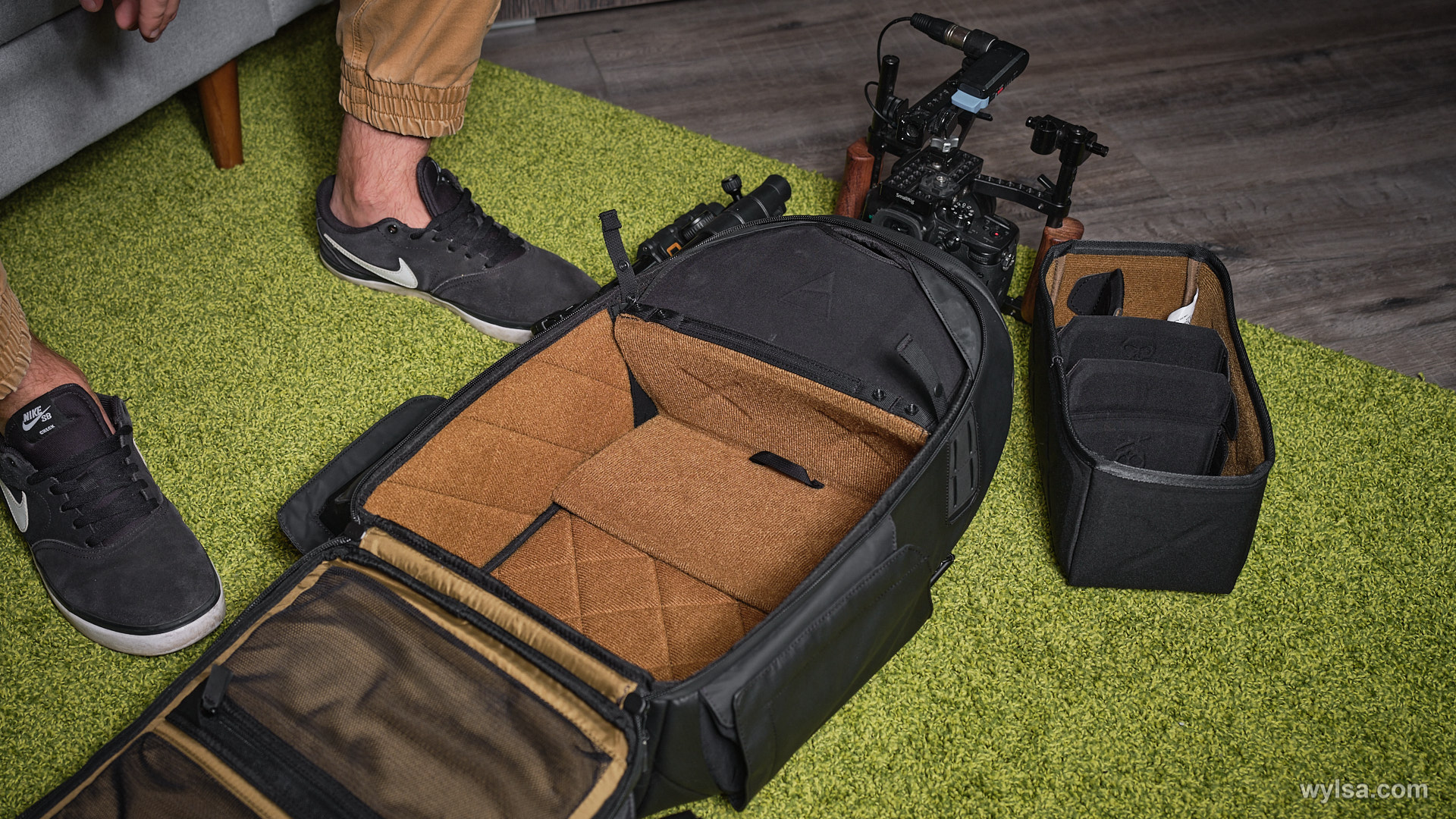 Front access only with top compartment: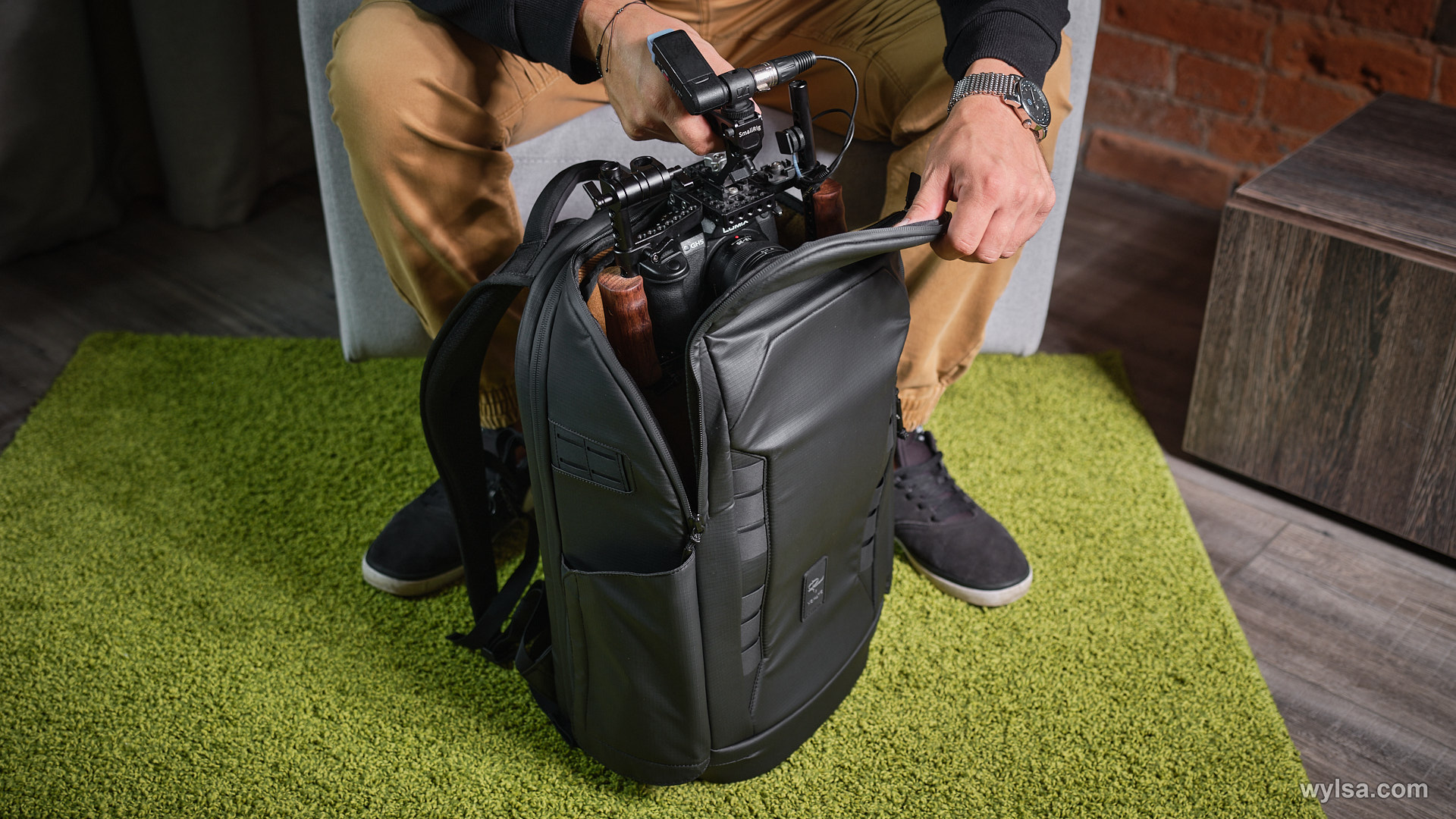 In it, you will find an eyeglass case and a pocket that occupies about a third of the volume of the main compartment of the backpack: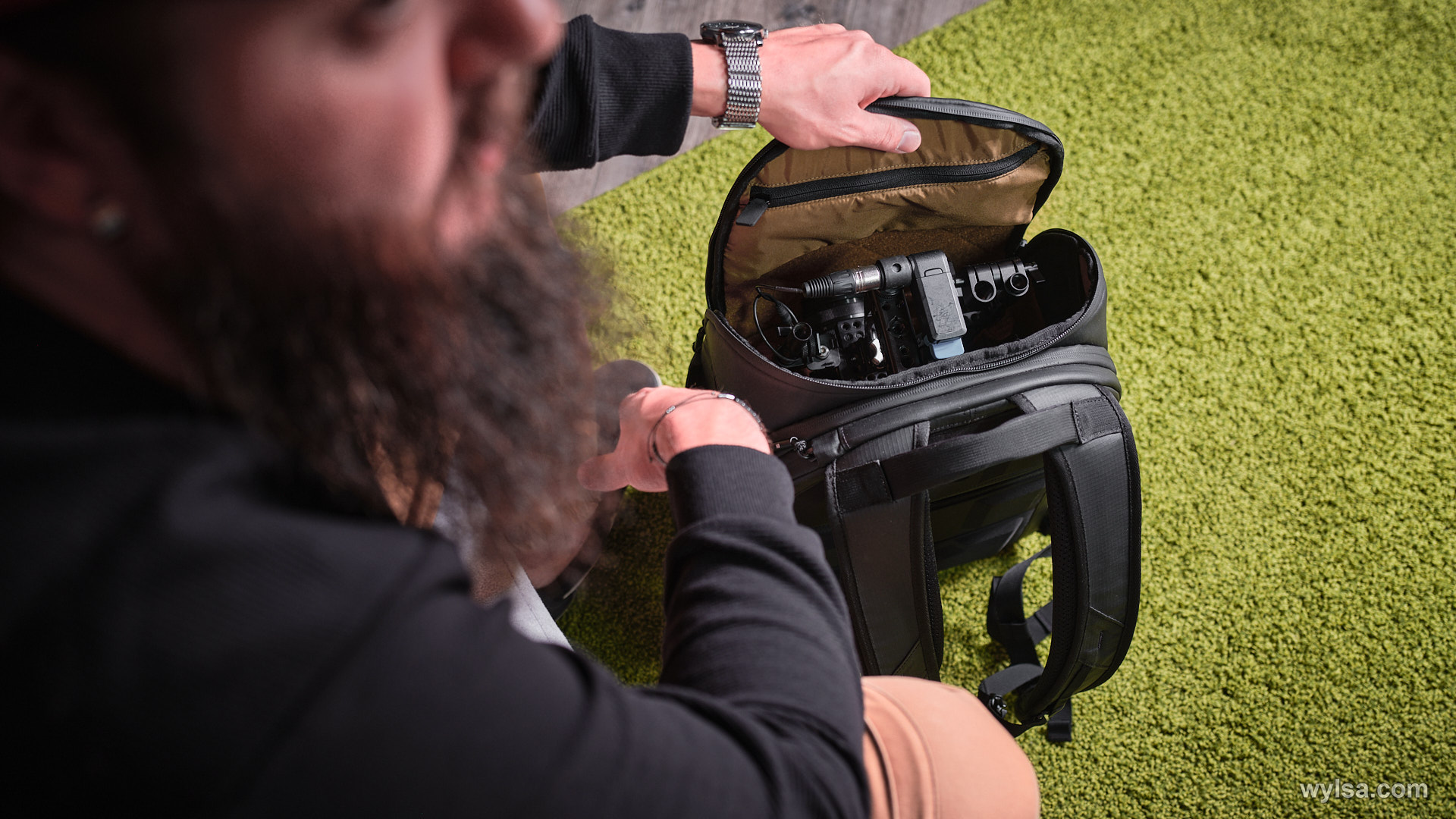 On the sides of this department, there are two small pockets where any small things will fit: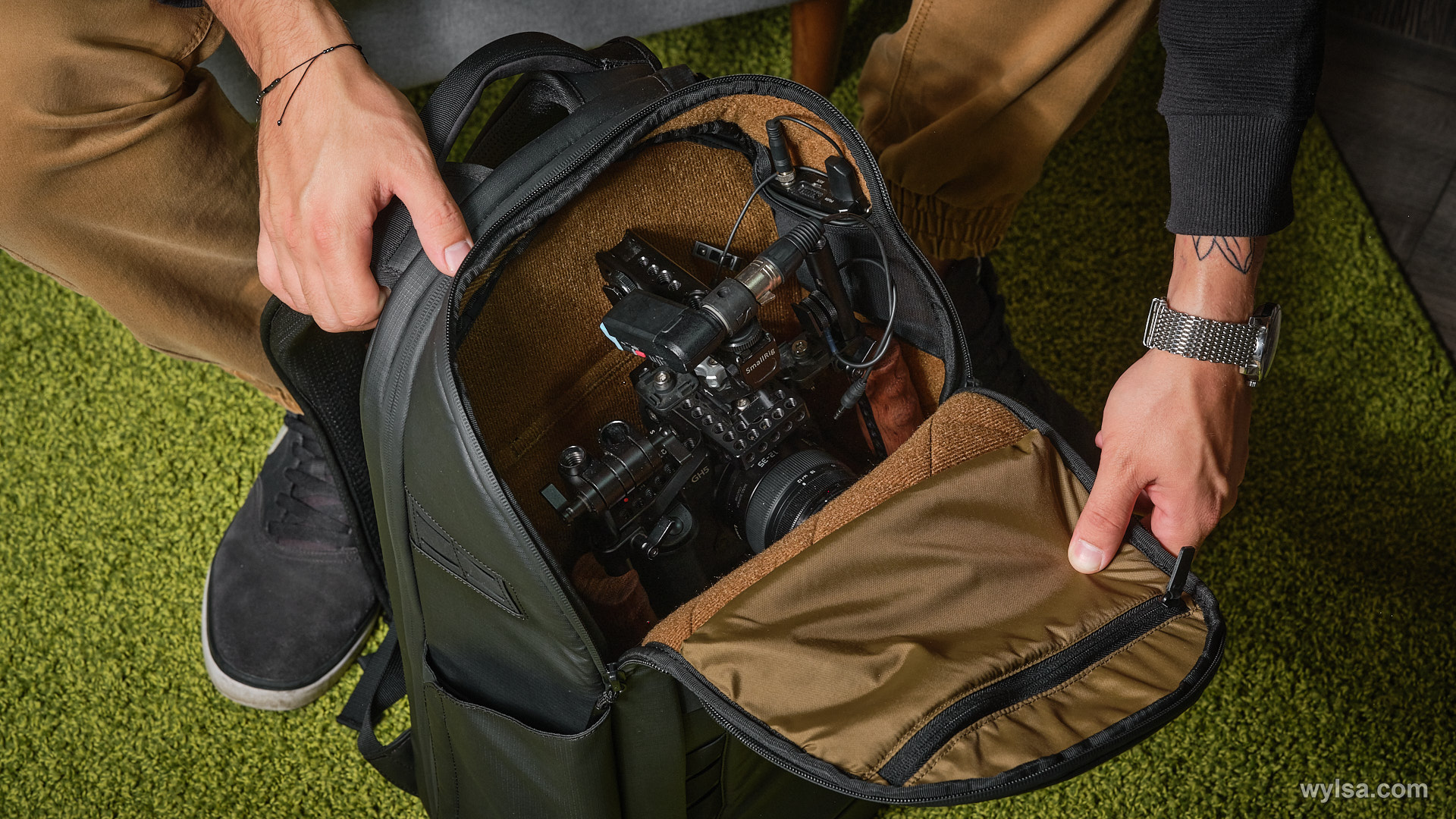 The second section is the main one. Access to it is possible only through the reclining backrest.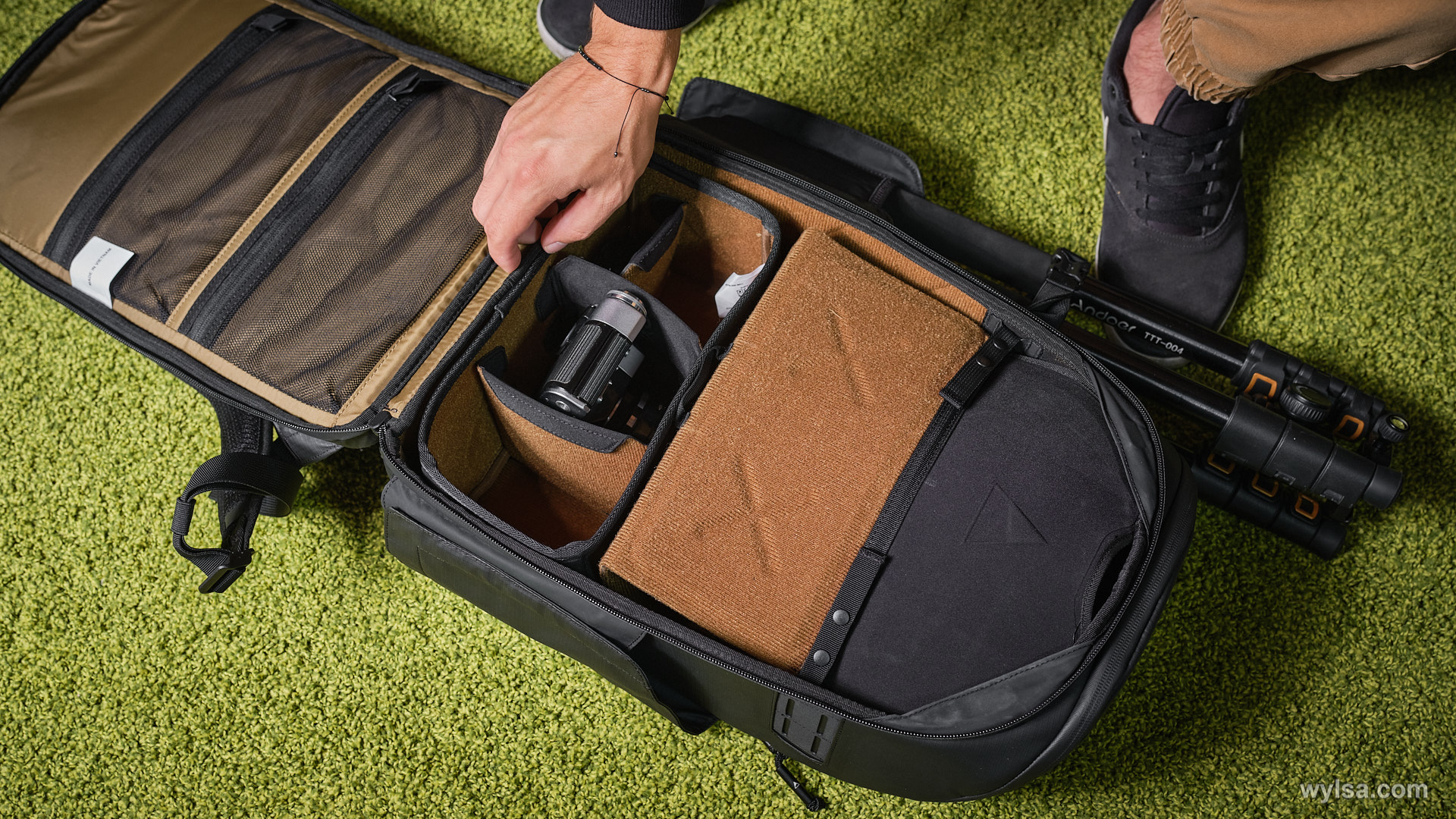 The first two compartments divide the volume between them in a 2/3 to 1/3. At the same time, there is a separator between them, with the help of which you can decide which one should be more prominent: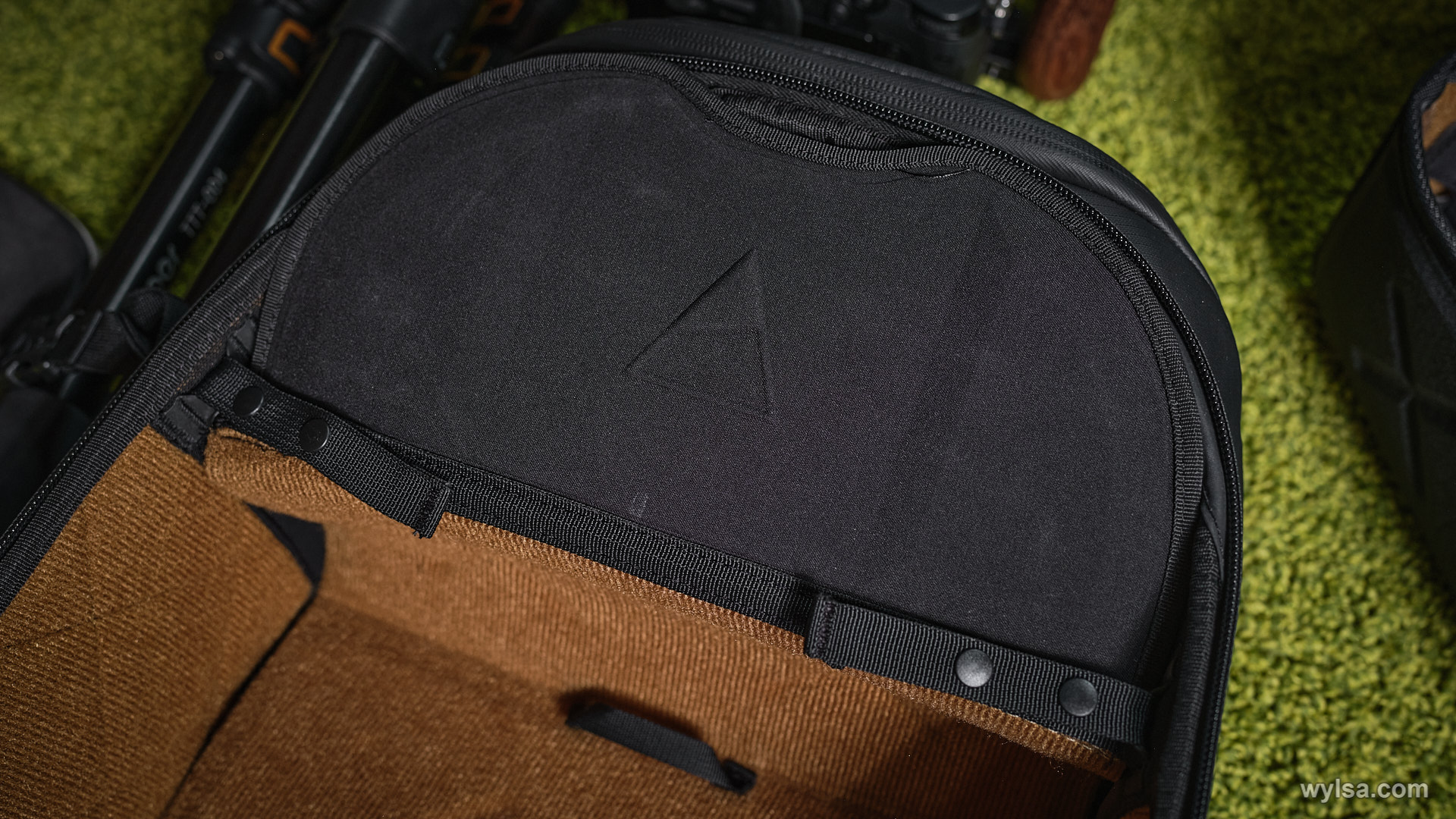 You can also remove the separator altogether – you get one large compartment, which can be accessed both from the back and from above: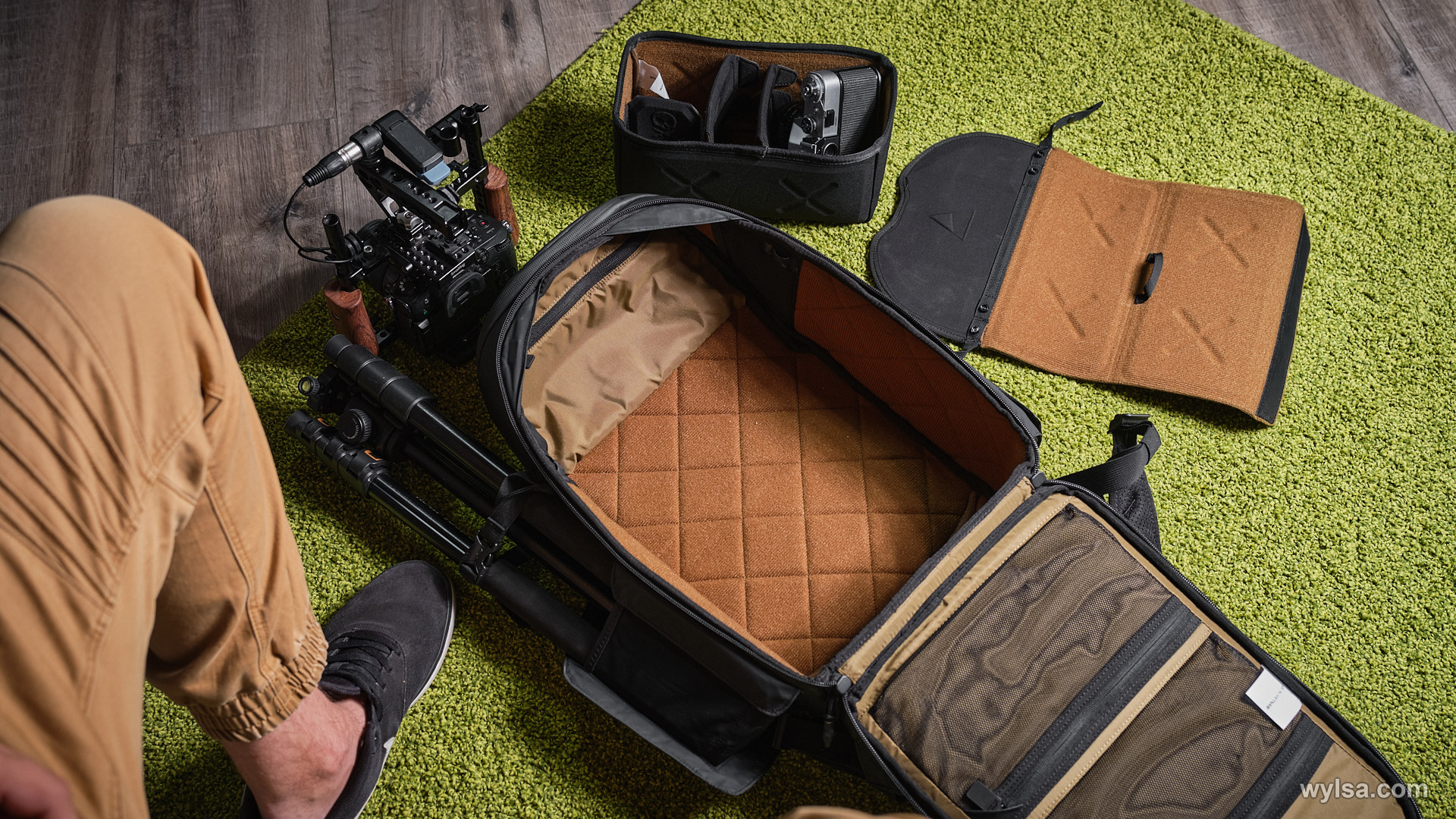 The third compartment with side access is designed for laptops. My 13-inch MacBook fits without problems, I also tried 16-inch firmware, and everything is ok with them too. Here's the MacBook Pro, by the way: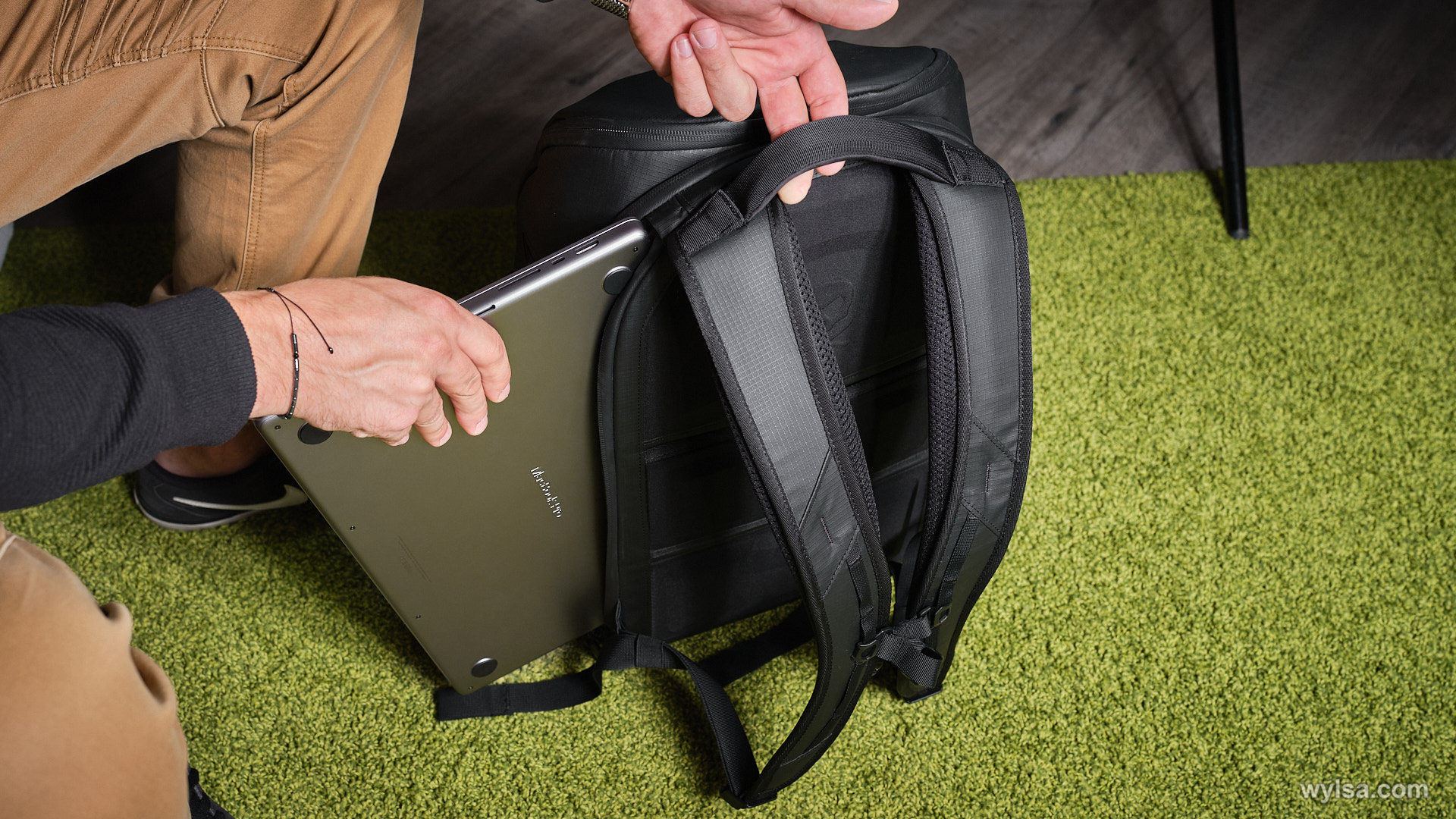 The straps are very steep: vast, dense. Even if you fill the backpack to the eyeballs, it is faintly felt on the shoulders. Today I have become susceptible to this – an unpleasant thing was found between the cervical vertebrae, from which a hernia can develop. I don't know how much such backpacks will help me, but my back does not hurt after it.
When wearing a backpack, it does not feel that it presses only at one point. Weight is perfectly redistributed over the entire area of ​​​​contact with the back.
On the back, there is a unique strap that holds the backpack on the handle of the suitcase: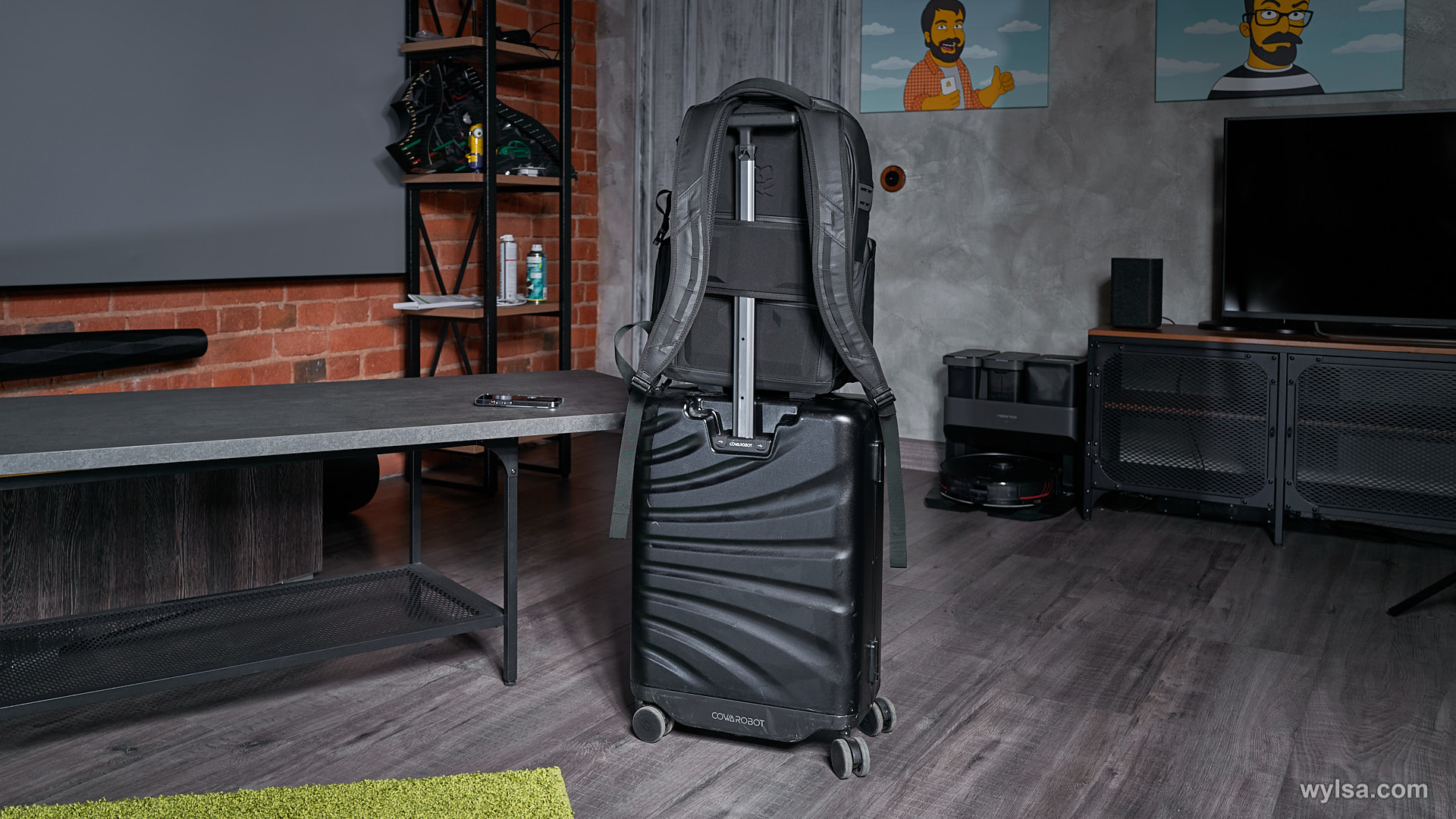 Usage
I always go with the 21-liter Wandrd The Prvke second version. I wrote about him a year ago:
Item of the Day: Wandrd The Prvke 21L V2 Stylish Photo Backpack
And I am very used to the convenience of this backpack. You can easily get the camera from it without removing the backpack – the side pocket is on top. With the Nomatic McKinnon Camera Backpack, I had a problem with the. It turns out that I love to shoot street, although I don't know how to do it (but without constant practice, you won't learn). So I often need to get my camera out quickly. It doesn't work here. As I said above, access is only from above or back. In both cases, the backpack must be removed.
In general, I approached our operator Grant with my problem (yes, this is the name, it is accurate, it is indicated in the passport). And I say: "Grant, I need to take a picture of you with a backpack." And when Grant saw the backpack, his eyes began to shine.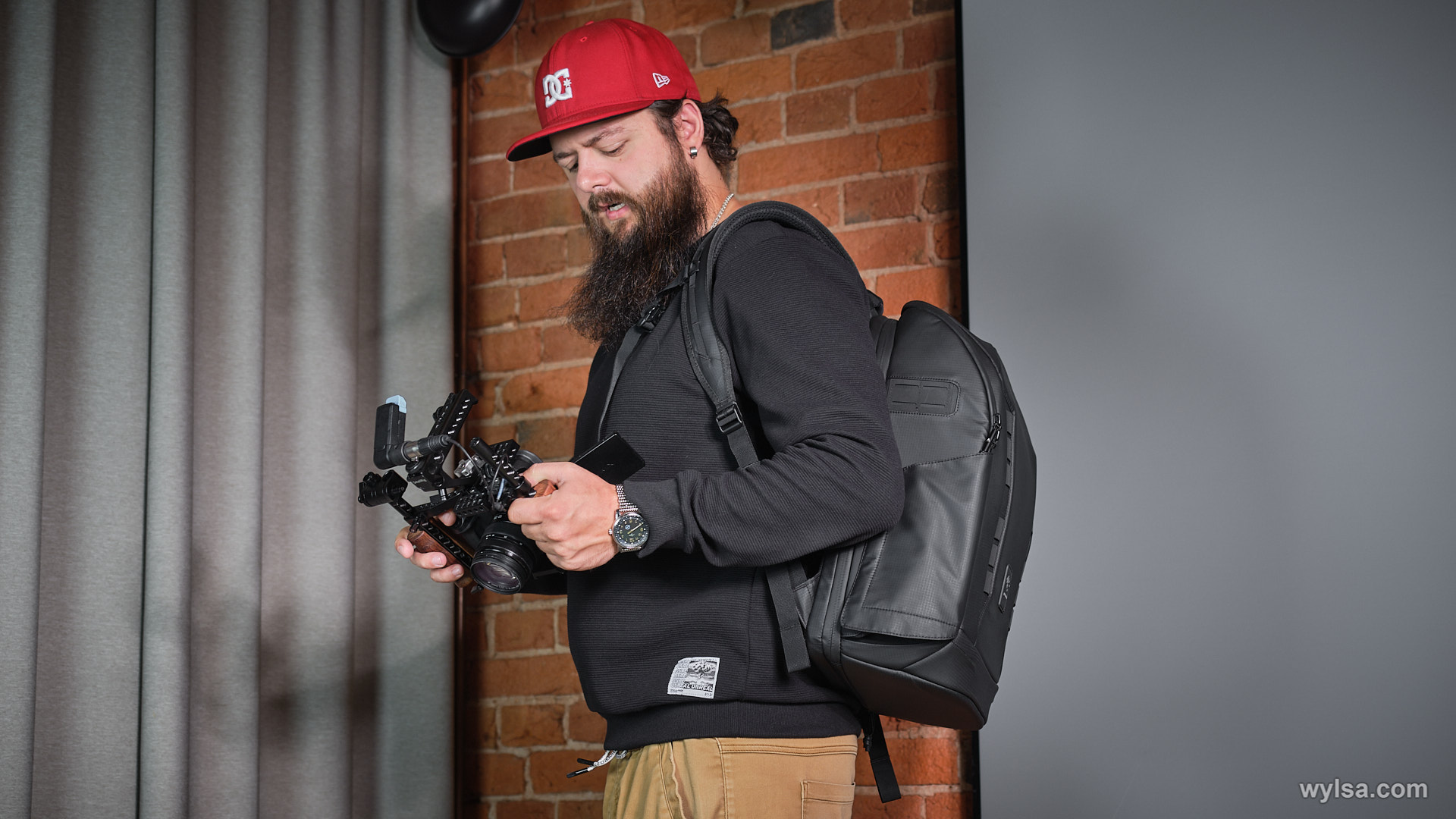 It turned out that he was very fond of Peter McKinnon. And the backpack made by this videographer and Nomatic is not aimed at photographers. At least not for those who periodically need a camera here and now. In general, this backpack is for those who shoot videos. Well, or photographers who take out the camera only in the studio. I belong to the latter only sometimes, and Wandrd, The Prvke of the second version, is enough for my eyes. So I asked Grant to write what he thinks of the Nomatic McKinnon Camera Backpack after using it.
Grant got carried away and immediately gave out ten points about why this backpack was the best thing that happened in his life. At least from the world of backpacks.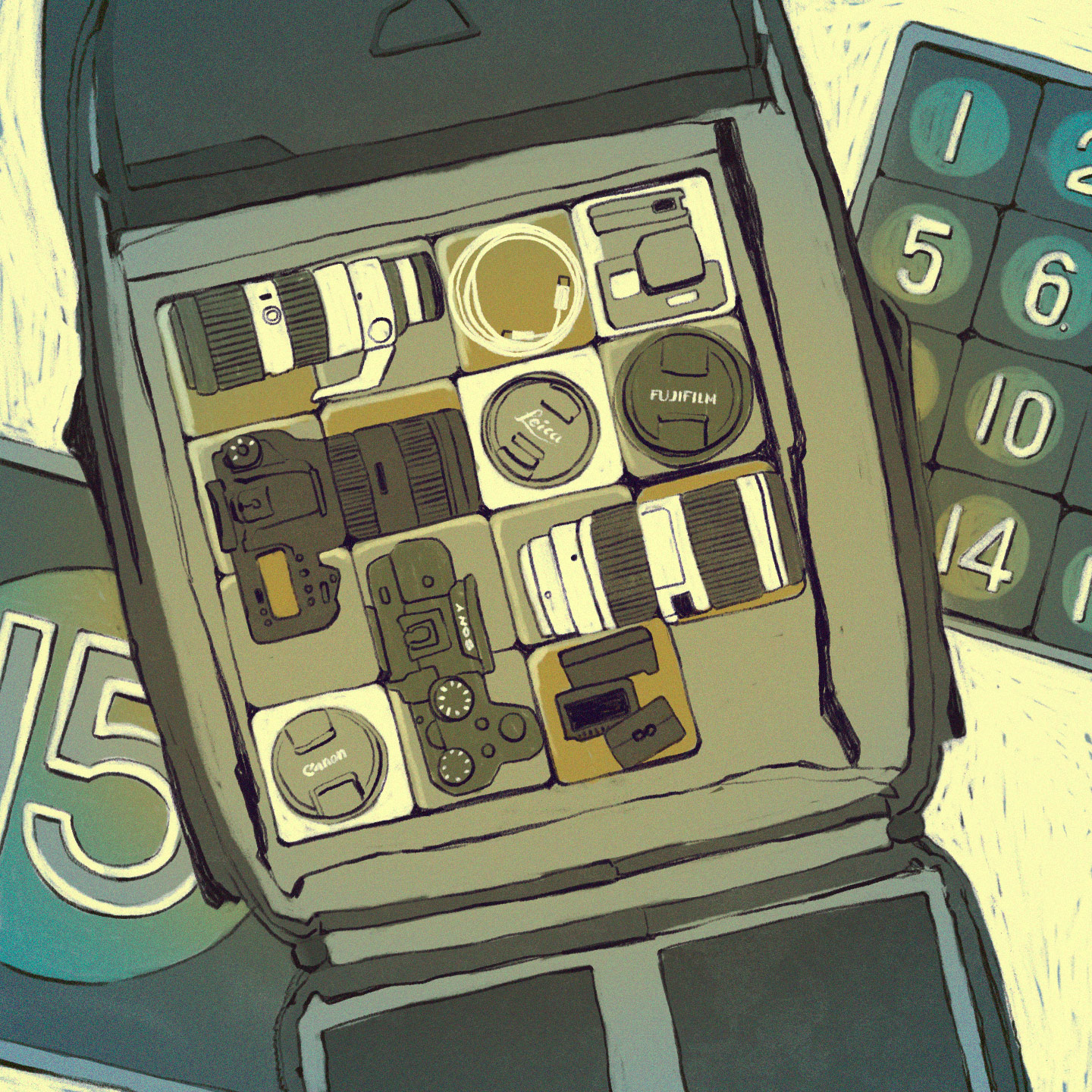 materials
This will include two points at once: fabric and zippers.
The backpack is easy to wipe. Everything is easy to clean, Nomatic McKinnon Camera Backpack is not afraid of water. Everything is also very cool inside: the inner compartment is entirely made of Velcro. This is important for two reasons. The first is that inside the backpack, I can attach any accessory with a Velcro fastener to any place convenient for me! Not everyone has this feature. For example, the K&F Concept backpack has a Velcro central compartment divider, which can be either removed or put on. You can't move up or down depending on the task, but the Nomatic McKinnon Camera Backpack can. In addition, I have an additional pocket with flash drives attached and textile cable ties just in the middle of the backpack.
The second reason is that you can attach dividers, creating convenient compartments for any accessories.
Let me illustrate Grant's words. Here is the backpack from the outside: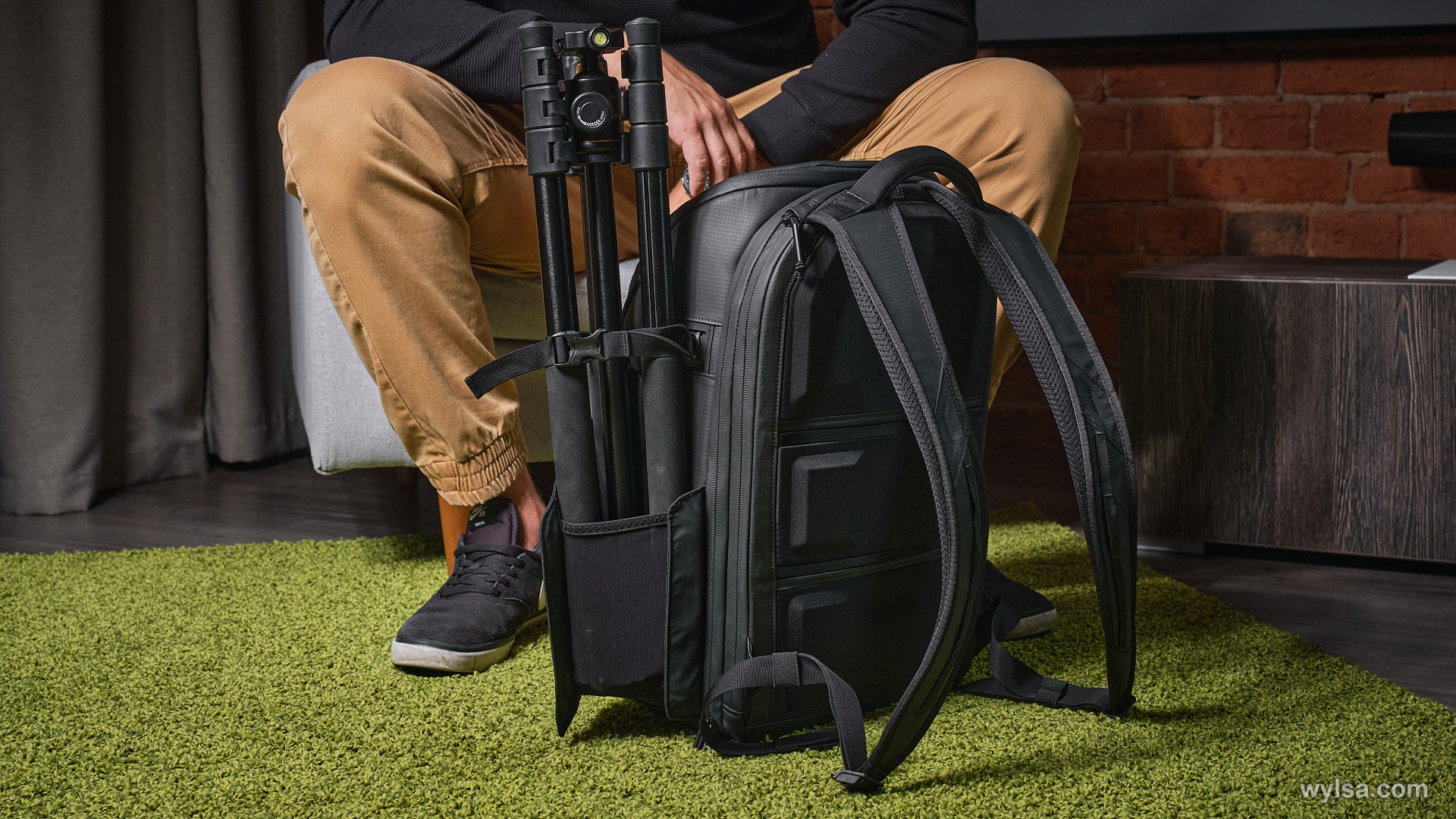 Here is the inside of the backpack: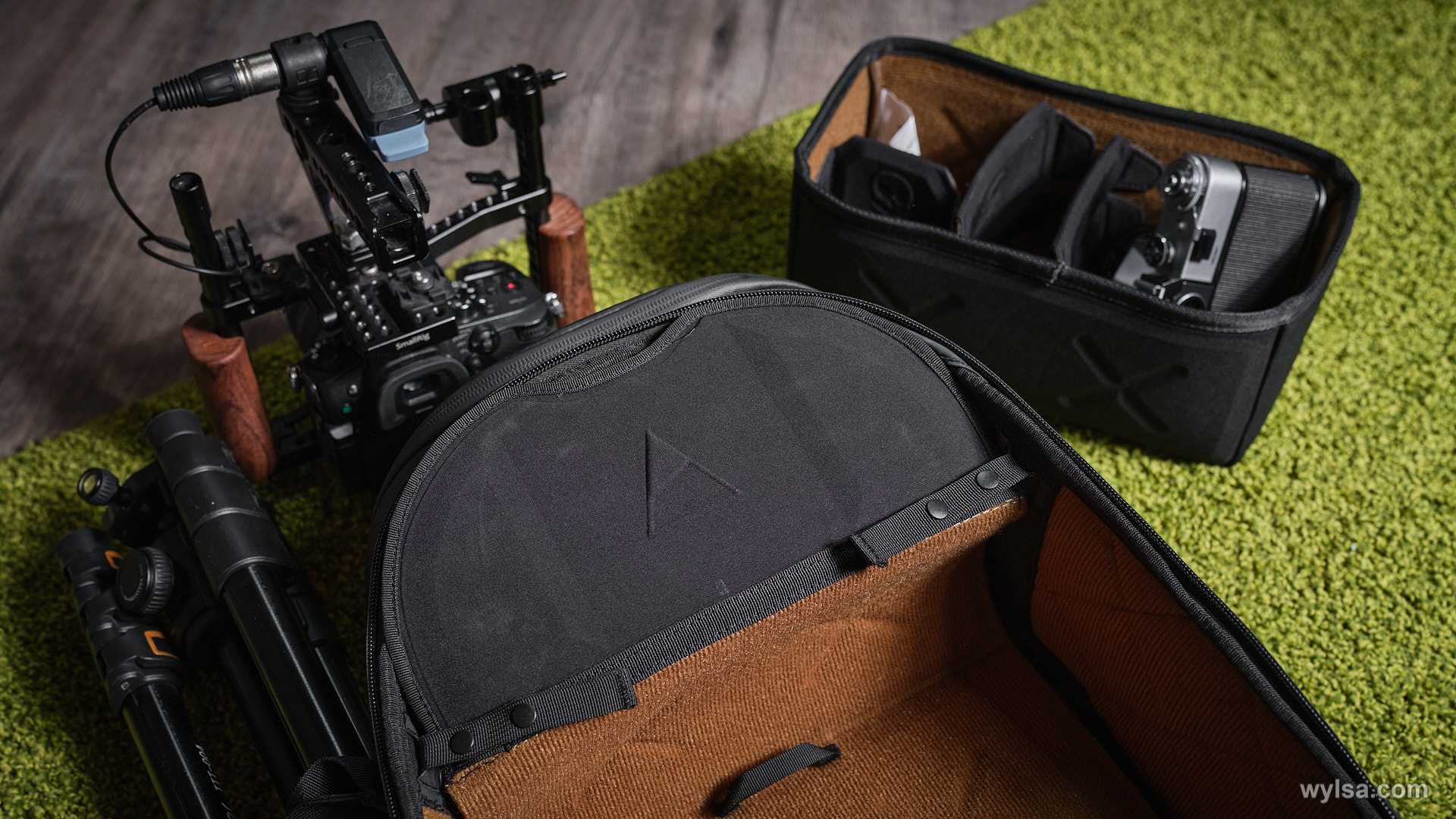 The zippers are dense, but move quickly, do not jam. There are zipper handles on the rain flaps. Here they are: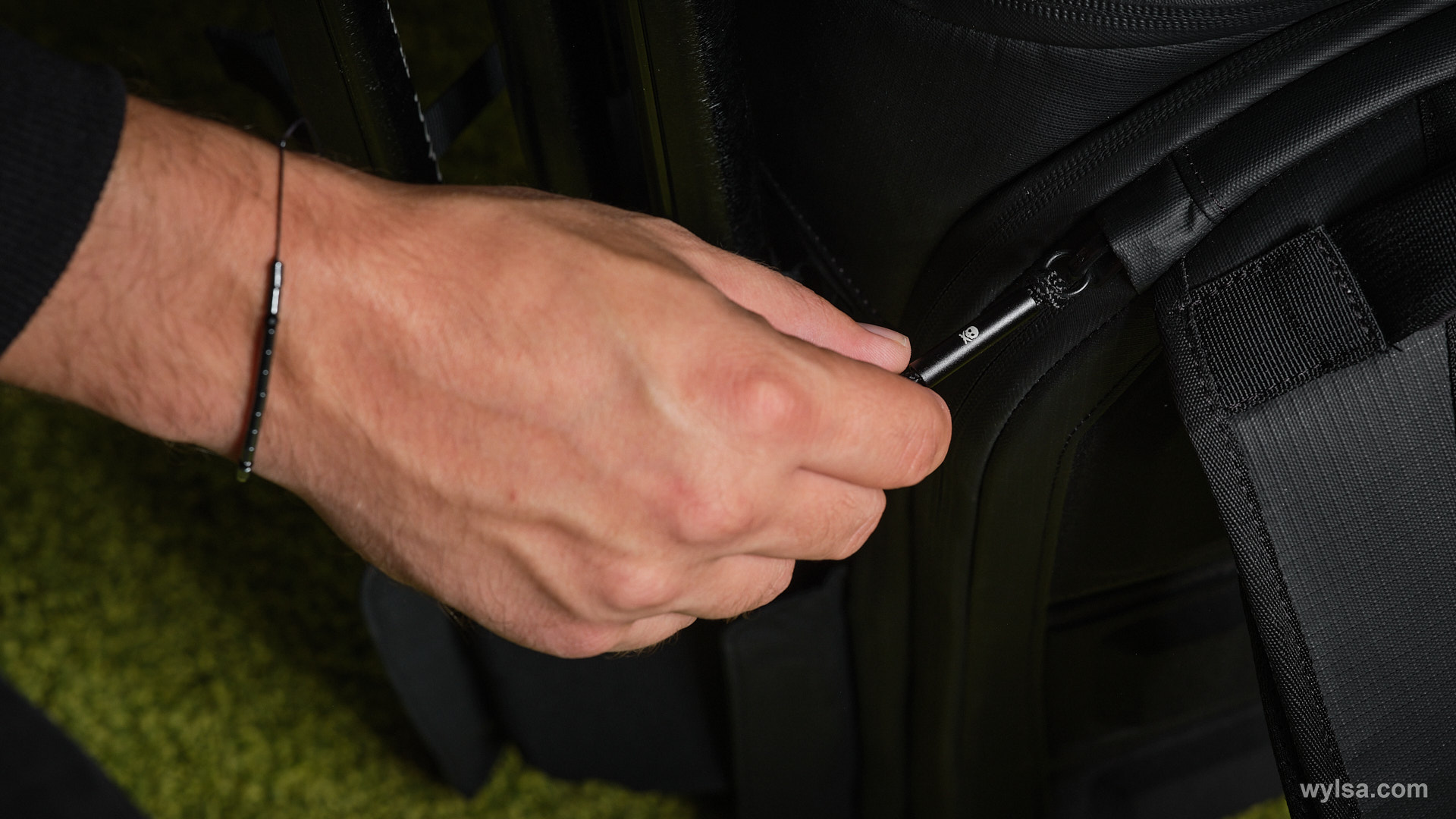 Convenience
Here I will include how the backpack hangs on the shoulders and its very use.
The straps are simply divine. Due to the density of the frame, they distribute the load. At the same time, they do not stick anywhere and do not hang out. It's comfortable to travel with a backpack.
The backpack is always worth it. And no matter how ridiculous it may look, this is an essential nuance in operation! Other packs from different price segments rarely boast the stability of this parameter.
Side pockets and an internal compartment divider are held in place with magnets. This is a smart solution instead of filthy elastic bands stretching or tearing and interfering with filling pockets. I unfastened the magnet – here's a big pocket for you, where a tripod will easily fit.
You can also hang a backpack. The strap is specially divided into two halves with a small recess: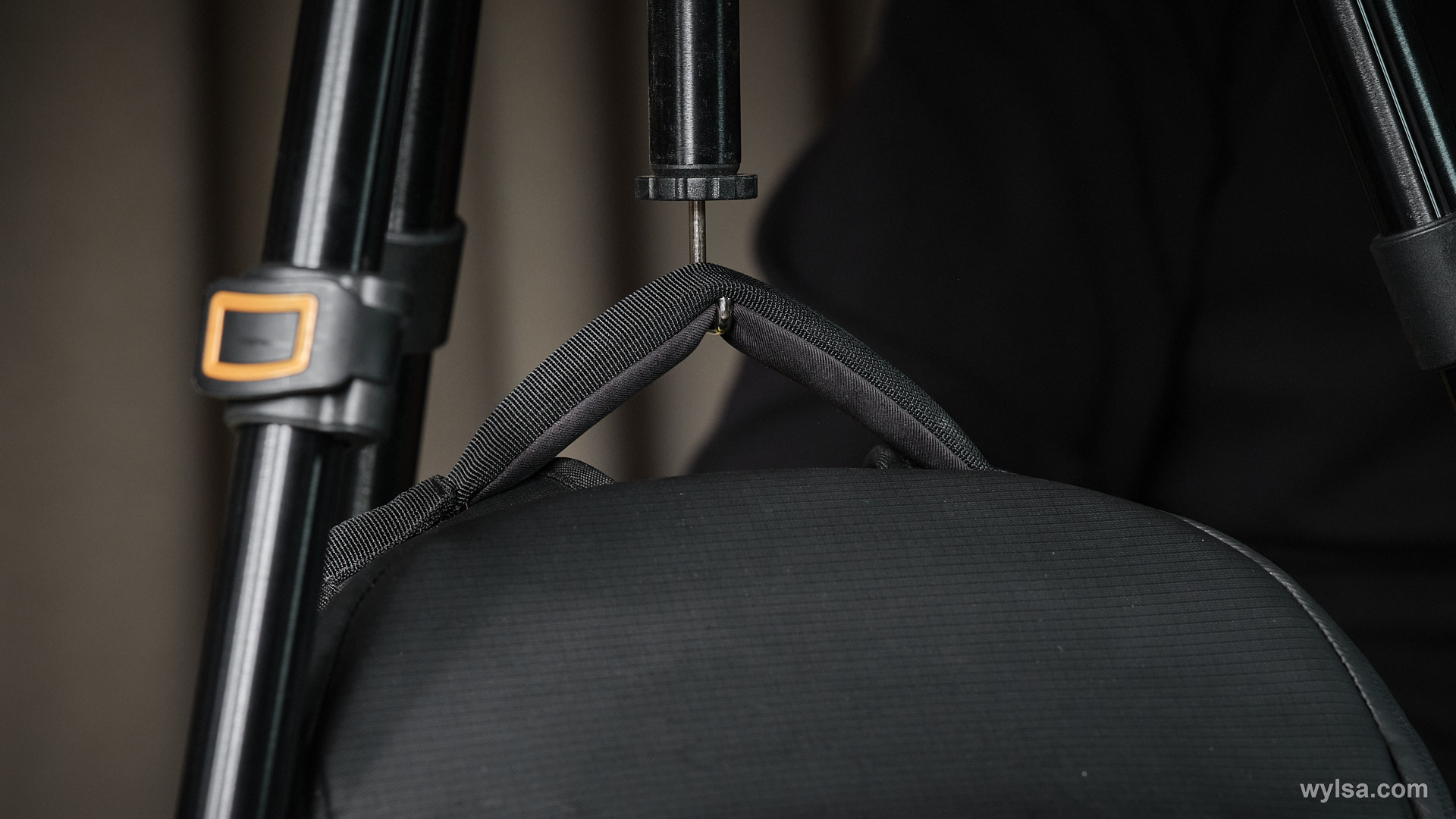 Security
The backpack takes care of the contents with might and main. First, as mentioned above, it is very dense. Because of this, it has a fairly rigid and safe construction for the contents, absorbing most cataclysms from the outside. It is thanks to this that I would even classify it not as backpacks, but as mobile universal trunks.
Secondly, there are seals everywhere, and this is very pleasing. Any pocket on all sides will be sheathed with something similar to a karemat or foam rubber. Therefore, you can be sure that the contents inside the backpack will also not cause damage to each other during transportation.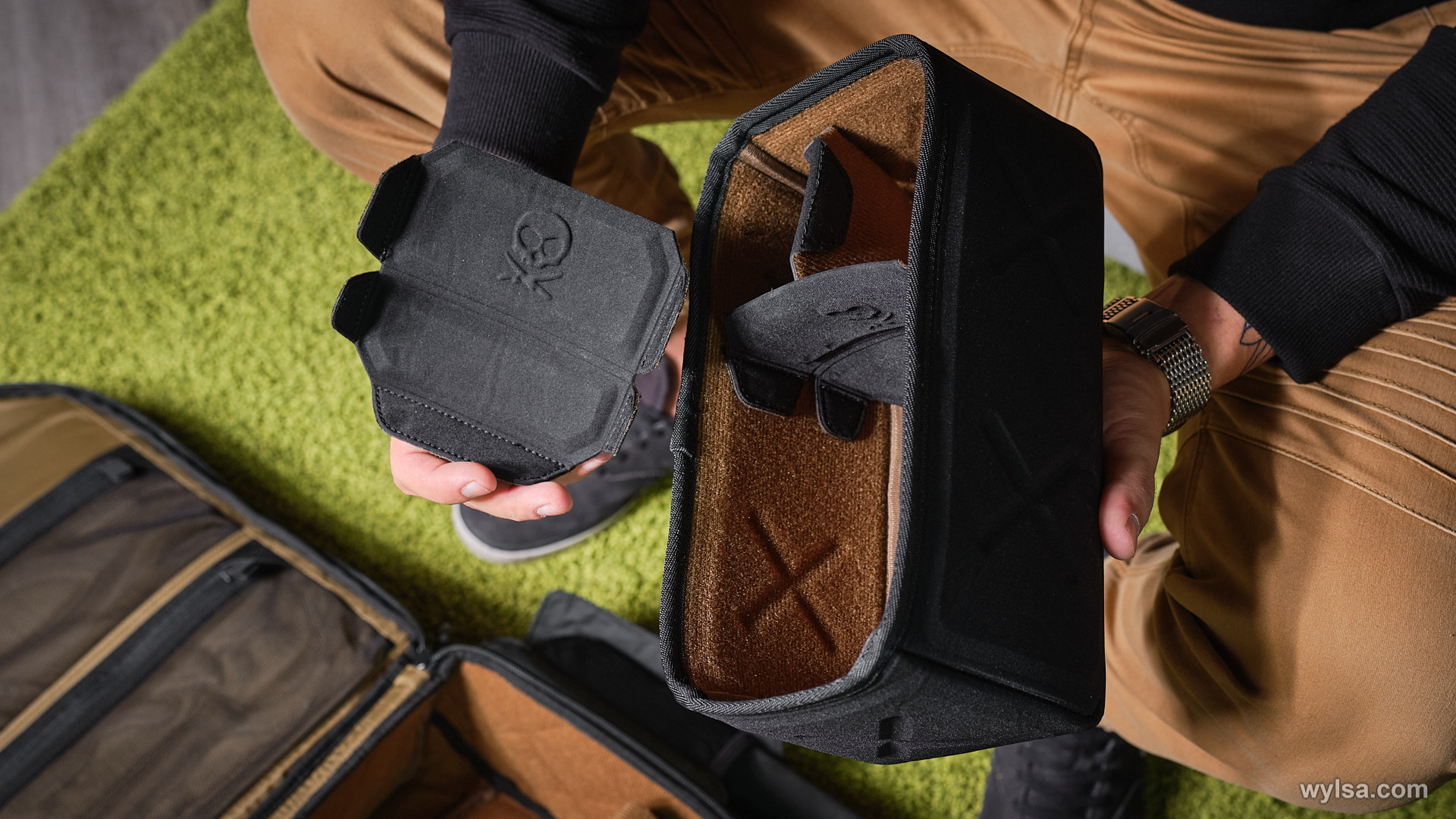 Thirdly, dividers, boxes and walls are very thin, but rigid and durable. They are also lined with velcro. Thanks to this, they perfectly keep their shape and do not eat up the useful volume inside the backpack.
Each strap can also be attributed to security: they are made of a material that is pleasant to the touch, reminiscent of a soft touch. They are located at such an angle that neither zippers nor fingers can be turned out. Each valve is tight, each mesh is stitched and so on. Nothing will fall out, zippers will not let water through in heavy rain, and the contents will remain unharmed.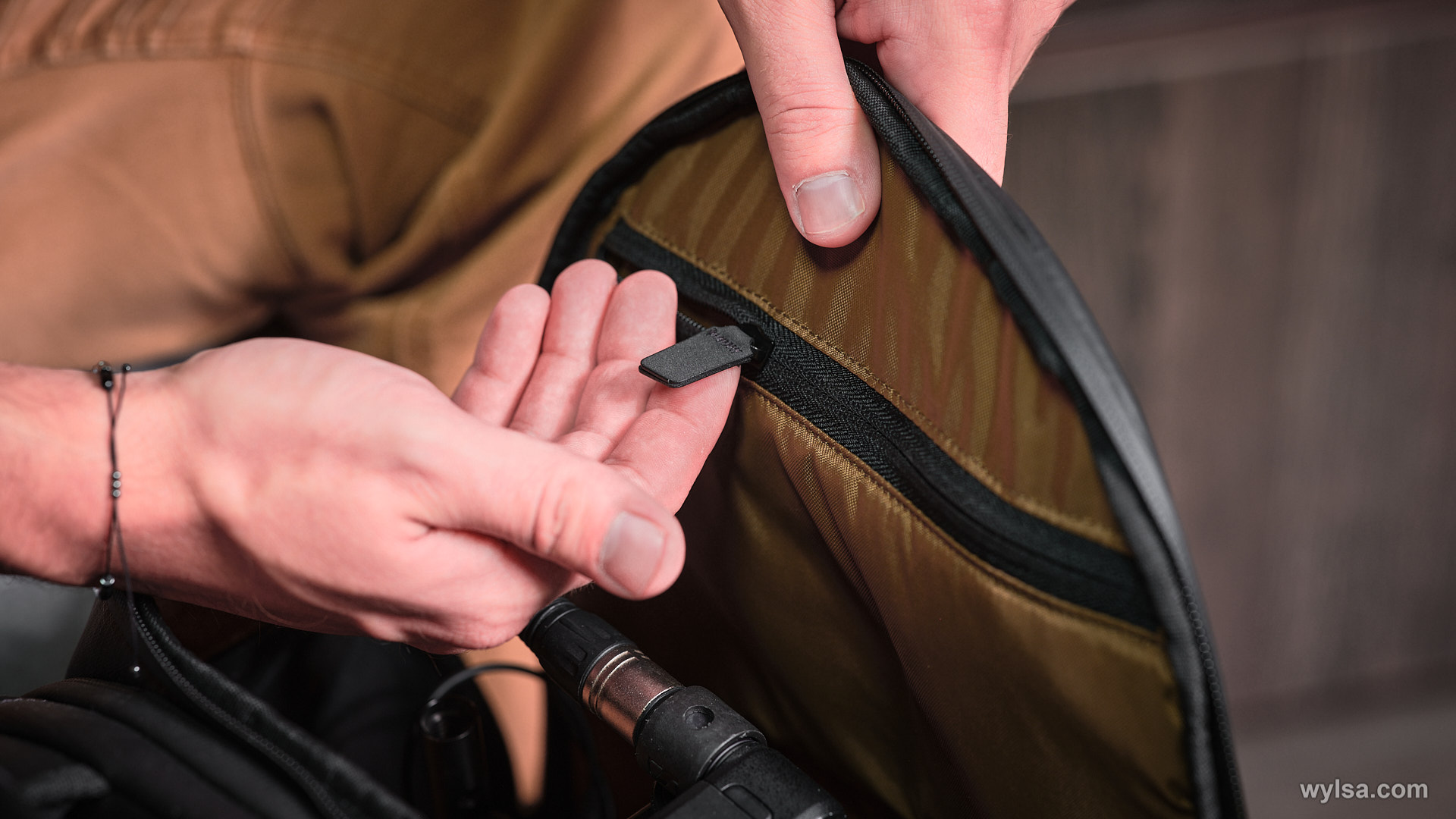 Outcome
At this point, I stopped Grant. I think he has a lot more to say about his new backpack. However, he still asked to add something:
It's really not a photographer's backpack. This is a mobile and versatile case for transporting equipment, made in the form of a backpack. Thoughtful, absorbed all the experience of operation and torment over the years spent with other backpacks, trunks and bags. It was created by an operator for operators.

Grant Tarasov

Techsuppo Media operator
I'll add the following from myself: if you shoot a street, then, like me, the Nomatic McKinnon Camera Backpack will rather disappoint you. But let's be honest: the Ferrari F90 is not bought to conquer off-road, this car has other tasks.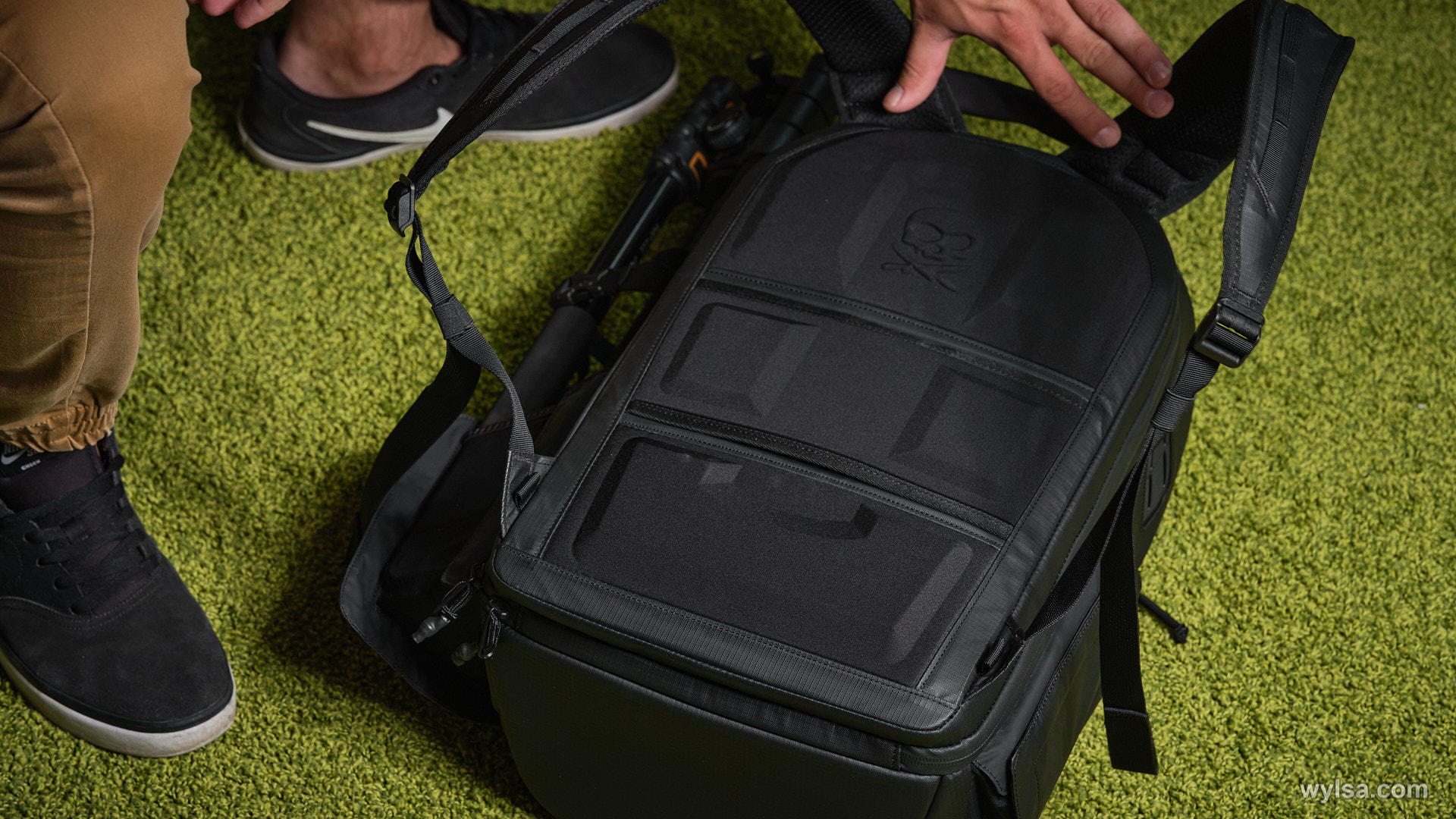 The situation is the same here: the backpack does not fit my tasks, I can reasonably explain why it is not for me – but I do not shoot a video. This does not make the backpack bad, which is why I turned to my colleague for a comment, who fully appreciated the merits of the Nomatic McKinnon Camera Backpack.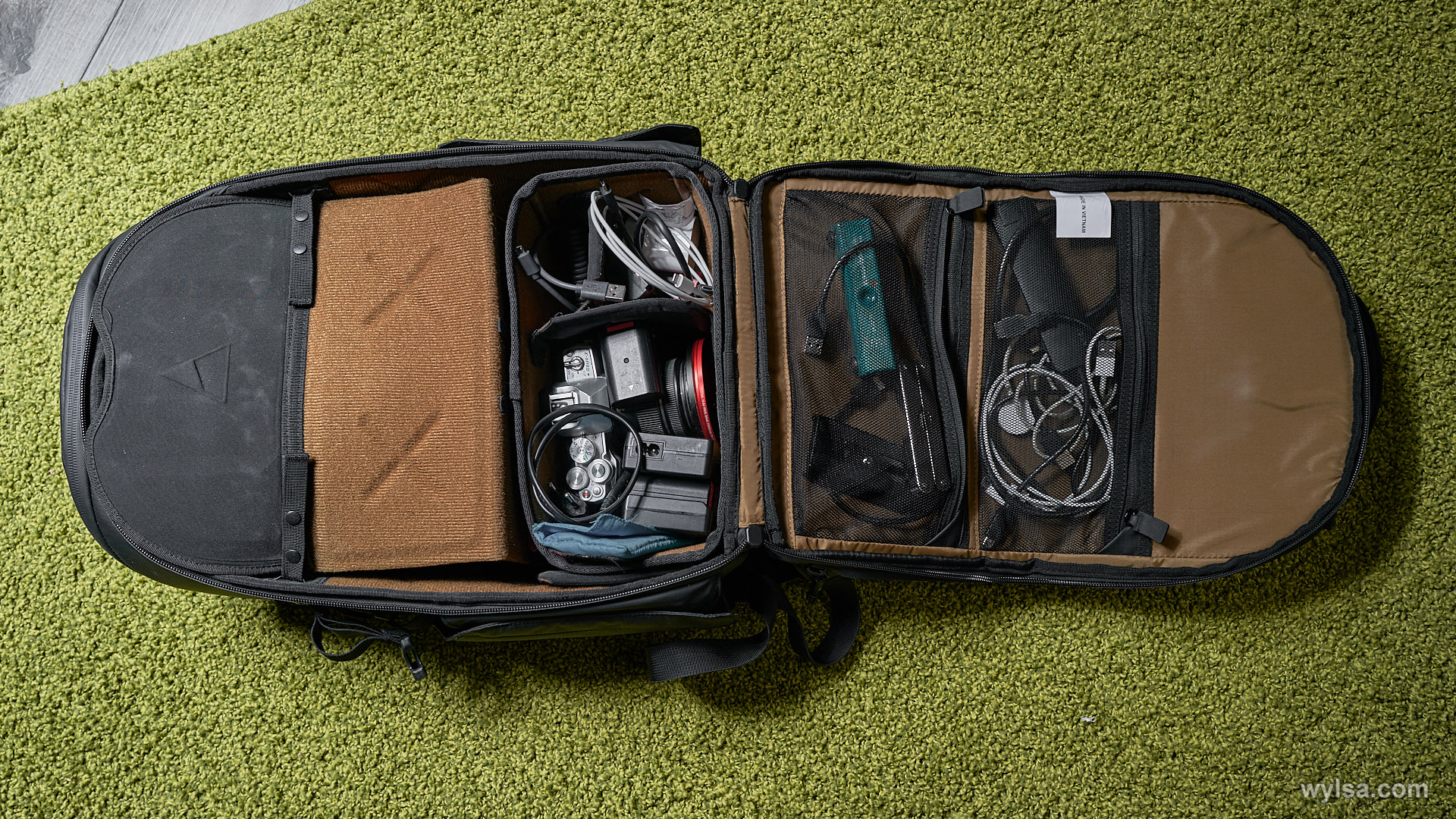 If there are backpacks of the "rank-up" type, that is, "grab and shoot." For photographers, this is just the Wandrd mentioned above, for videographers – this Nomatic. Since getting a camera with a cage and other body kit from the side pocket will not work. The backpack will have to be removed anyway. And McKinnon Camera Backpack offers one of the best options for this use: take off the backpack, put it on, quickly took out the camera, left the backpack and flew off to shoot.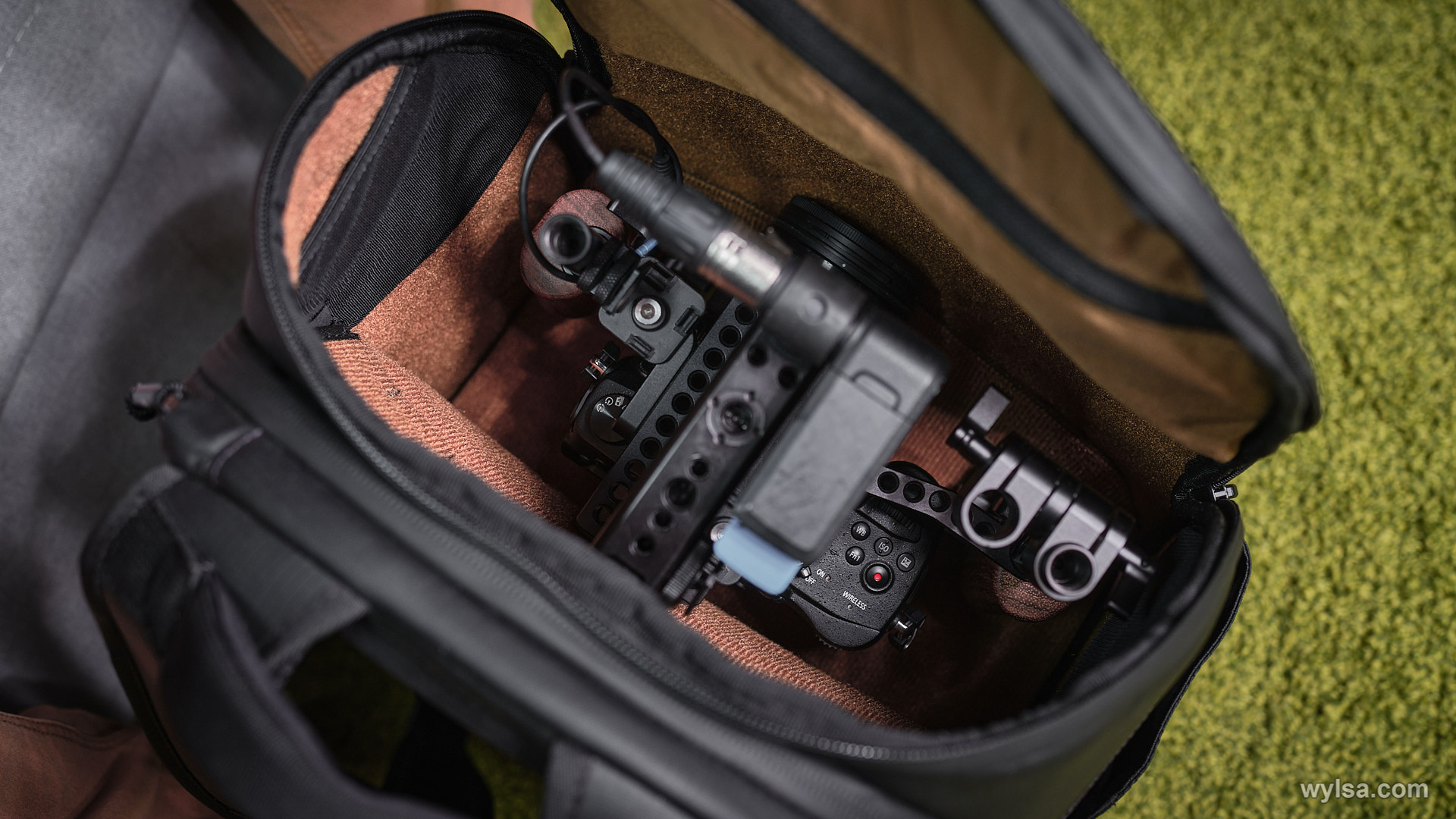 ---
Our friends from Bag & Wallet, with whose support this text was written, have a 25-liter Nomatic McKinnon Camera Backpack Sold in five versions:
just a backpack without fillers – 25,990 rubles;
backpack and dividers for the camera, lenses and other accessories (Divider Kit) — 30,490 rubles;
a backpack and a separate square compartment with dividers (1 large cube) – 33,990 rubles;
a backpack and a separate rectangular compartment with dividers (1 small cube), similar to what you saw in this text – 30,490 rubles;
a backpack and two separate rectangular compartments with dividers (2 small cube) — 35,990 rubles.
You can see the Nomatic assortment in Bag & Wallet on the shop website.
By the way, when using the promotional code WYLSA, an additional 8% discount will apply to the entire assortment of the store.