Washing vacuum cleaners can be used for both dry and wet cleaning. Some in both modes use an aqua filter, in which dust settles in a container with water, while others have a separate container or bag for dry cleaning. However, these are not all the differences between the models. If you are looking for the best cleaning vacuum cleaner, then this article is for you. It represents a certain rating of the best-wet vacuum cleaner, the models arranged in ascending order of price.
Bosch BWD41720
Weight: 10.4 kilograms;
Dust collector: aqua filter for 5 liters;
Suction volume: up to 2.5 liters;
Noise level: 85 decibels.
A budget option with many possibilities. This model uses an aqua filter for all types of cleaning. Its capacity of five liters is enough to clean a three-room apartment thoroughly. The device is equipped with a dozen attachments, which decently expands its functionality. The parquet brush is equipped with natural fiber bristles and does not spoil the coating due to its softness. She can also handle the cleaning of the laminate. In addition, there are various nozzles for crevices, hard-to-reach places, window cleaning, liquid collection, as well as a set for cleaning cabinets and upholstered furniture. Small accessories are stored in a special compartment in the vacuum cleaner, so they are always at hand.
The device easily handles both clouds of dust in dry mode and dirt in wet mode. Due to the low price, the gadget is not equipped with spraying detergents, but nothing prevents you from spraying them first with the help of a spray bottle – then cleaning will become even more effective. The cost also affected the quality of the plastic: it is quite thin and requires careful handling. The device turned out to be large enough, which makes it difficult to maneuver. Another disadvantage is the inconvenience of cleaning the container. And the fact that he is alone forces him to rinse and dry him after each cleaning, even if it was dry. At the same time, the air always remains moist, which is especially good for allergy sufferers.
✅ Pros:
Low price;
Wide functionality.
❌ Cons:
Thin plastic;
Large dimensions;
Inconvenience in cleaning the container.
Thomas TWIN Helper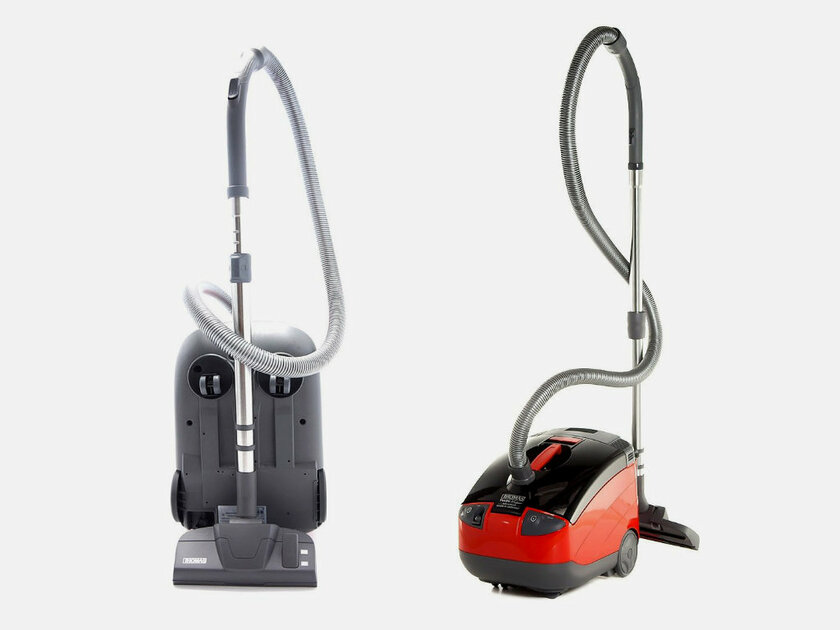 Weight: 11 kilograms;
Dust collector: 4-liter aqua filter;
Suction volume: up to 4 liters;
Noise level: 81 decibels.
Another inexpensive household assistant. This vacuum cleaner is equipped with three filters that are easy to remove and clean. In the dry cleaning mode, only one of them is involved. In general, the device always uses an aqua filter, so you have to clean it more often, while the design is not entirely convenient. As for the configuration, it is quite functional. The set includes a regular brush, parquet, carpet cleaning nozzle with adapter for hard surfaces, several accessories for cleaning furniture and cleaning in hard-to-reach places. Such an abundance can be confusing at first.
Especially a lot of positive emotions are caused by cleaning carpets, with this device it comes out pretty high quality, even if there are animals in the house. The power of the gadget is at the level and raises no objections. But it is not devoid of other disadvantages. As is often the case with inexpensive devices, the manufacturer saved on the quality of materials – plastic is quite fragile. It would help if you were especially careful with the water supply button on the handle because its breakdown will famously limit the device's functionality. Also, due to the decent dimensions, maneuverability is difficult, although the large and comfortable wheels partially offset this.
✅ Pros:
Low price;
Functionality;
Easy maintenance of filters.
❌ Cons:
Fragile plastic;
Inconvenience in cleaning the container;
Large dimensions.
Thomas TWIN Panther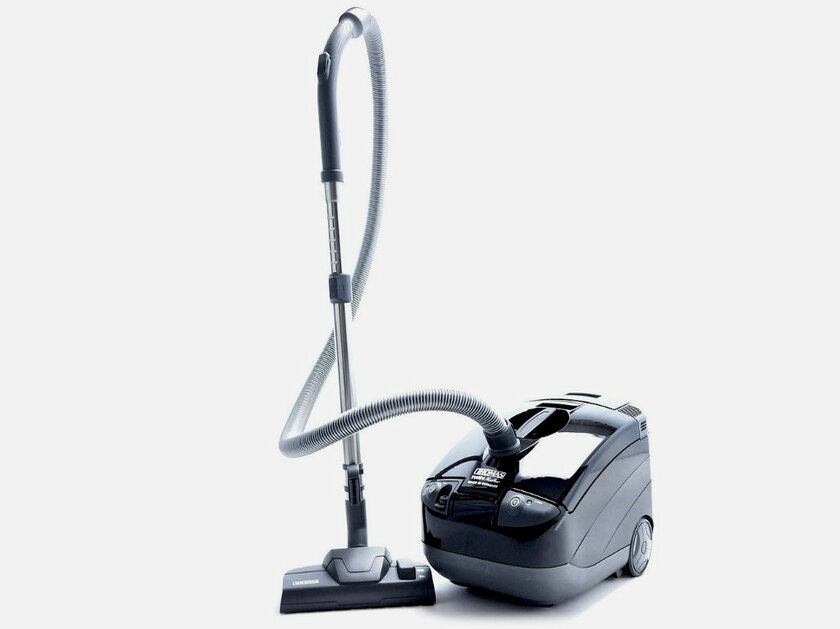 Weight: 8.4 kilograms;
Dust collector: aqua filter for 4 liters, bag;
Suction volume: up to 4 liters;
Noise level: 68 decibels.
This device differs from most in the presence of a separate dust bag for dry cleaning. In this mode, the aqua filter is not used, and therefore, it is unnecessary to wash it, which saves time. The manufacturer offers a disposable bag of the same capacity as the container for dirty water – 4 liters. But there is an opportunity to purchase consumables with a volume of 6 liters. However, it may not be easy to buy the recommended bags since they are not always on sale. But you can choose compatible and reusable. It's the same with filters. The manufacturer has equipped the device with Nero dust collectors. They trap even the smallest particles.
The rest of the gadget is equipped almost standardly if you do not consider the absence of a special nozzle for collecting liquid, but a regular brush can also handle this function. By the way, it turned out that the accessories are difficult to change during operation, and considerable effort is needed to remove them. However, over time, the mounts become less tight. There are also advantages in ergonomics. Since the device's dimensions are relatively small, it can be parked vertically, which significantly saves space. The power is quite sufficient for full-fledged cleaning. Furniture is especially well cleaned. Another plus – during operation, this vacuum cleaner emits much less noise than most of its counterparts.
✅ Pros:
Separate bag for dry cleaning;
Interchangeability of consumables;
Relatively small dimensions;
Low noise level
❌ Cons:
Possible problems with the purchase of bags;
Lack of a nozzle for collecting liquid;
Difficulty changing attachments.
Thomas BRAVO 20S Aquafilter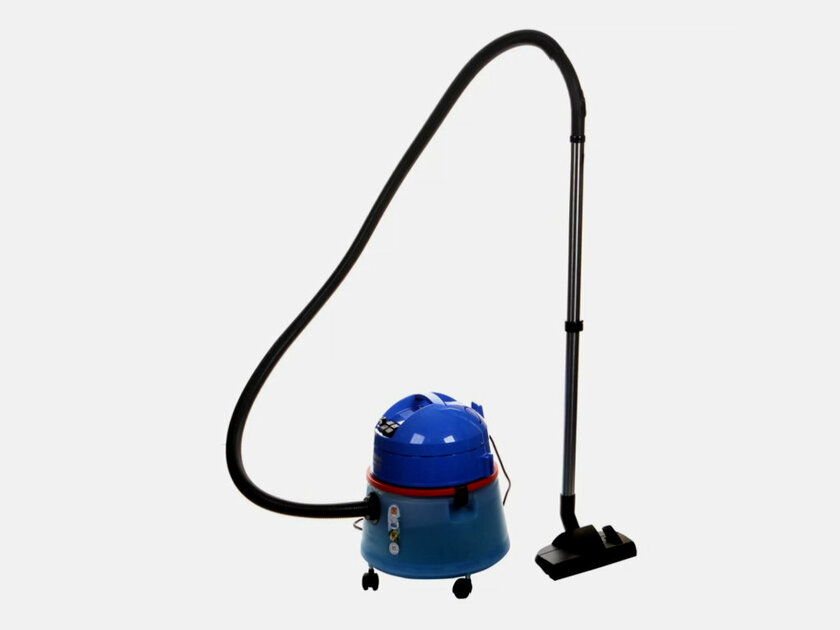 Eeight: 7.1 kilograms;
Dust collector: aqua filter for 20 liters;
Suction volume: up to 6 liters;
Noise level: 77 decibels.
This vacuum cleaner features voluminous reservoirs, which allows you to clean large areas. An aqua filter is used for all types of cleaning. The capacity for dirty water is 6 liters, but if you do not carry out wet cleaning but use the device exclusively in the mode of collecting liquid, more than 13 liters will fit in it. The gadget does not shine with design, but it performs its functions perfectly, and the quality is high. Part of the nozzles can be fixed on the body, the main assembly with the pipe is hung on it. It is so convenient for storing upright.
The pipe is height adjustable. The suction hose is long enough to accommodate a flexible tube for supplying cleaning solution. Moreover, its intensity can be adjusted, which is not available to all models. Users do not complain about the power, but there are enough complaints. The main drawback stems from the advantages – due to a large amount of liquid, the gadget is heavy (the manufacturer indicates the empty weight). It's good that his wheels are almost like on office chairs – huge. In addition, the design features require a certain skill to prepare for work. It takes about 10 minutes.
✅ Pros:
Volumetric tanks;
Build quality;
Ability to adjust the intensity of the supply of the washing solution.
❌ Cons:
Heavyweight;
Long preparation for work.
KARCHER SE 4001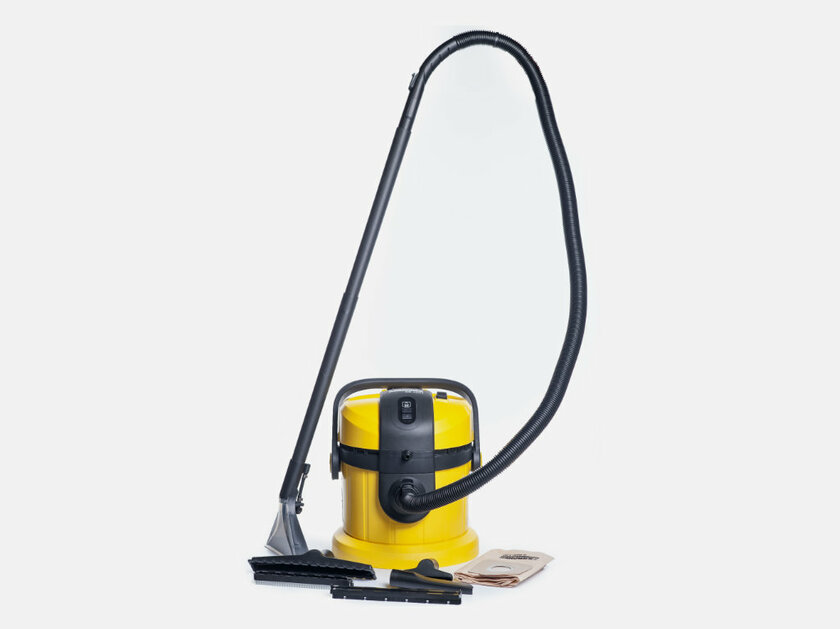 Eeight: 8 kilograms;
Dust collector: aqua filter for 4 liters, bag for 18 liters;
Suction volume: up to 4 liters;
Noise level: 73 decibels.
Another solid device. The build quality is excellent. The materials are solid. This model uses a separate garbage collection system. A disposable paper bag with a volume of 18 liters is intended for dry cleaning – it will take a long time to fill. What's more, there is the option to purchase a reusable one. The clean water tank holds 4 liters. The same capacity is at the waste liquid tank. The machine is mainly focused on cleaning dry dirt floors and deep cleaning of carpets.
The gadget sprays the solution under decent pressure, thanks to which it penetrates deeply into the tissues, along with quite powerful suction. This gives an excellent cleaning effect. The device is also suitable for upholstered furniture. It cannot boast of an abundance of attachments, but there are basic ones. Among the shortcomings, we can note the decent dimensions of the device, while the possibility of attaching the main tube with a hose to the body is not provided. Because of this, it is inconvenient to store the device. In addition, it isn't easy to disassemble for cleaning.
✅ Pros:
Build quality;
Power;
Separate bag for dry cleaning.
❌ Cons:
Large dimensions;
Storage inconvenience;
Inconvenience of disassembly.
Bosch BWD421PRO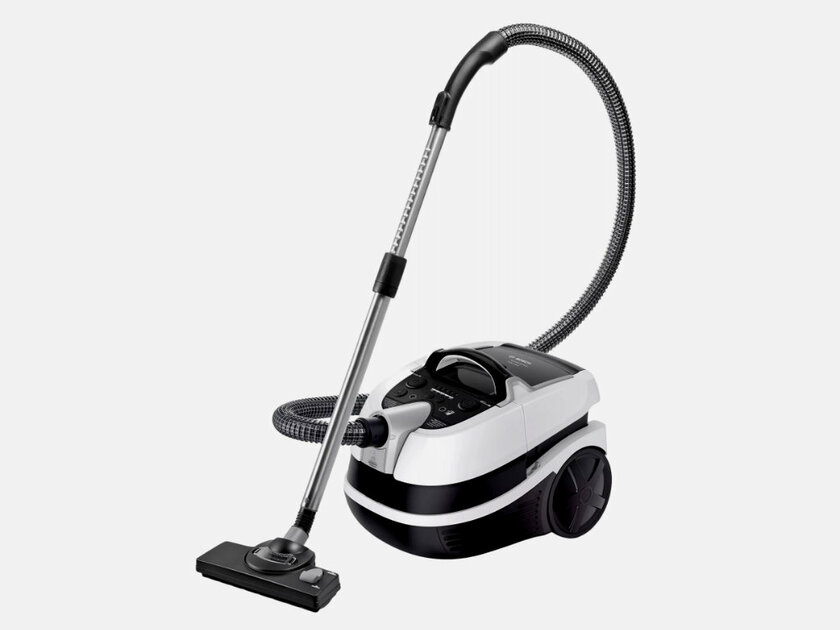 Weight: 10.4 kilograms;
Dust collector: aqua filter for 4 liters, bag for 3.5 liters;
Suction volume: 4 liters;
Noise level: 85 decibels.
This model uses an interesting technical solution that gives the user the right to choose. Dry cleaning can be done using some waste collection containers. Thus, it is possible to collect dust in a 3.5-liter disposable bag. It is separated from the water filter by a partition. It can be removed together with the bag, replacing it with a special grid. Then, in the dry cleaning mode, dust will settle in the aqua filter.
The device is quite functional. There are many attachments for furniture, crevices, and hard-to-reach places, two for collecting liquids (different sizes), the main brush for wet cleaning, and a rotating brush for dry cleaning. The latter is specially designed for collecting wool and hair. All small accessories are stored in the case. The suction hose is reinforced to extend its durability. The tube is telescopic and easily adjustable in height. Adjustment of the strength of the supply of the washing liquid is provided. Users note the high power and build quality but complain about the flexible chemical delivery tube. It attaches to the suction hose in several places but generally sags and dangles.
✅ Pros:
High power;
Functionality;
Ability to choose a dust collector for dry cleaning;
Build quality.
❌ Cons:
Inconvenient fastening of the cleaning fluid supply hose;
High price.
Thomas DryBOX Amfibia Pet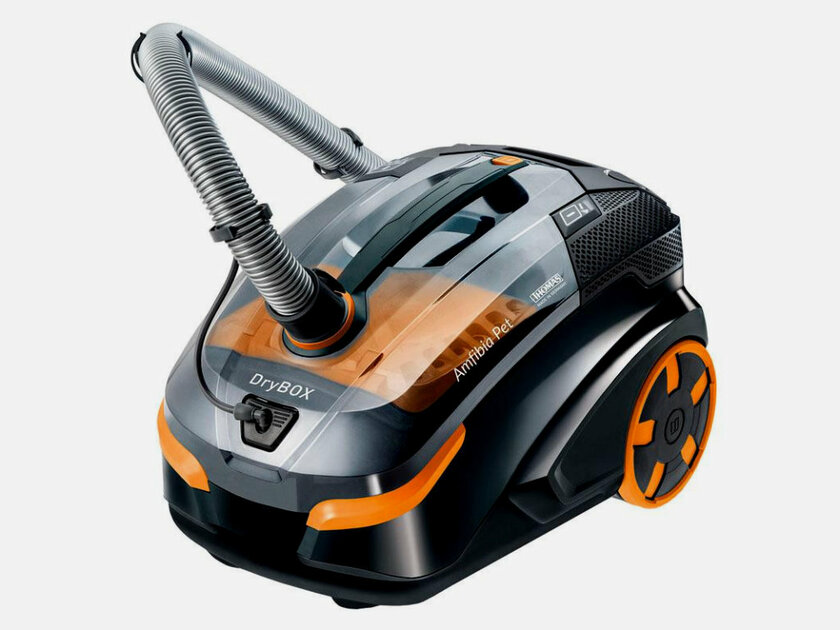 Weight: 8.4 kilograms;
Dust collector: aqua filter for 1.8 liters, container;
Suction volume: 1.8 liters.
Noise level: 81 decibels.
This washing vacuum cleaner is equipped with two types of interchangeable containers. For dry cleaning, the DryBox system is used. Thanks to centrifugal force, the waste is distributed into coarse particles collected in the main compartment and fine dust in the two side compartments. Unlike most models, the filling capacity does not affect the suction power. So after several dry cleaning, large objects can easily be emptied of the container, and it is enough to rinse the dust containers with water every few months. For wet mode, you need to install another module with an aqua filter.
The suction power of the gadget is quite high, so it is regulated in four modes. The indicator will tell you which one is selected. The functionality of the device is at its best. It has all the attachments you may need, including a turbo brush for collecting wool from the floor and a special device that allows you to clean furniture from it without lifting the upholstery with a suction stream. In general, the device does not cause complaints from users if we are not talking about its price.
✅ Pros:
Power;
Functionality;
DryBox system.